Two new Nintendo DS Lites to be released for Black Friday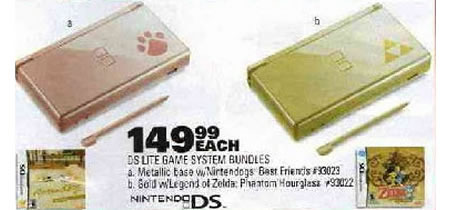 Apparently the Crimson and Onyx Nintendo DS wasn't the last new version of the portable gaming system that we'd see this year. Thanks to a leaked Black Friday ad from Sears, we know to expect two more versions before the year's end.
First you have the metallic pink bundle that comes with Nintendogs: Best Friend Edition, I'm going to guess that means only girls play that game. They may be right, that's a title that I've never even been tempted to try out. The other bundle is a gold DS packaged with The Phantom Hourglass. That would almost be tempting if I didn't already have a DS Lite and the game.
The Black Friday deal isn't half bad, as each bundle will only set you back $149. Be warned, in order to partake in this offer, you're going to have to fight the crowds on the busiest shopping day of the year.
Sears Black Friday ad discloses two new DS Lites [via newlaunches]