"Big Two" Continue To Stomp Digital SLR Market In Japan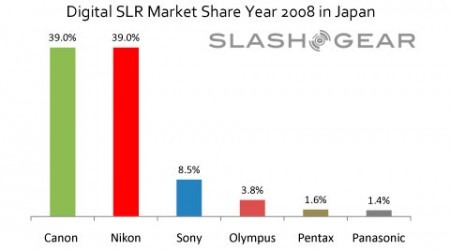 BCN Japan took stock of the 20 best-seller DSLR in Japanese market for the year of 2008. According to the data, which accounted for 93.3% overall DSLR sale in that region; the "Big Two" held its spots, continue to dominate the cutthroat DSLR market despite threaten by the new Four-Third Standard from Olympus and Panasonic, as well as the increasingly popular Sony Alpha.
20 best seller list after the cut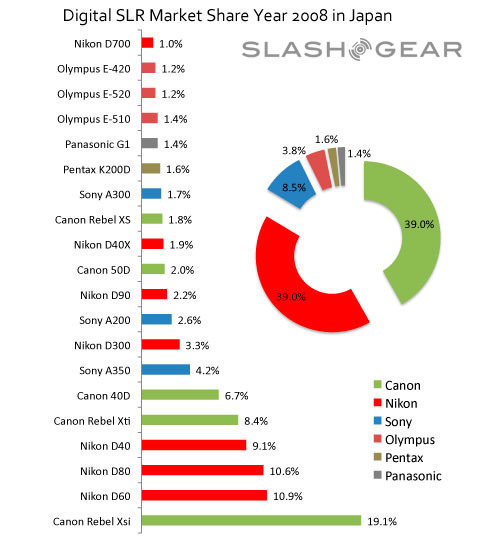 Entering the year of 2008, Nikon upheld the top spot in Japan's DSLR market with 43.7% in sale, 4% higher than its bigger rivalry Canon. But riding on the success of EOS 450D/XSi/Kiss x2, which led the domestic market with 19.1% share; Canon has rebounded and is now toe to toe with Nikon, each held an equal 39% share accounted for the market.
If you're noticing, there are zero pro body makes it to the chart. If any, Nikon D700 is probably the best semi-pro on the list. The battle for third spot got interesting with Sony in the mix, but the late comer in DSLR field has knocked the 2007 third-ranked Pentax off its share, closing out the year of 2008 with 8.5% market share. (Based of available data). Pentax ranked third with 5.8% sale last year.
[via akihabara]