Twitter Teams Up With Apple's Ping Music Service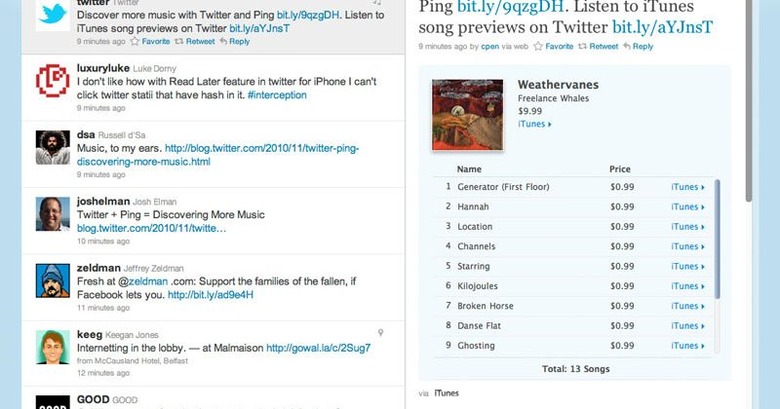 Thursday afternoon, Twitter came forward and officially announced that the micro-blogging service has begun a social networking partnership with Apple's Ping music service. It's now easier than ever for those using the service to share what they're listening to, what they like, or what they've reviewed while using the service. However, while it may sound like a dream come true for those who want to share their music favorites with everyone they know, it may be far more streamline than some may like.
The new service kicks off today, and with it, you'll be able to not only link your Twitter account with your Ping profile, but you will also be able to post song previews, general Ping activity, and links to purchase/download songs or albums, right to Twitter. If you do link your profiles, you'll be able to find your Ping friends on Twitter, if they've got an account with the service.
But, when you do link your accounts, you won't be notified every single time a tweet is sent out. Instead, when you commit to an action in Ping, like reviewing a song or liking a song, or any other kind of "post," will automatically be sent to Twitter. Auto-style. So, if you start going crazy on Ping, your Twitter followers are definitely going to feel it.
On the bright side, though, if someone were to click on one of the many links you sent out, they'd be taken to a live preview page, on Apple's iTunes Preview website. They will be able to preview the song you posted about right in the browser, without having to actually open up the iTunes application. So, if you don't mind auto tweeting everyone you know, then the service should be well received.
[via AppleInsider]