Twitter releases updates for Android, iPhone, and mobile web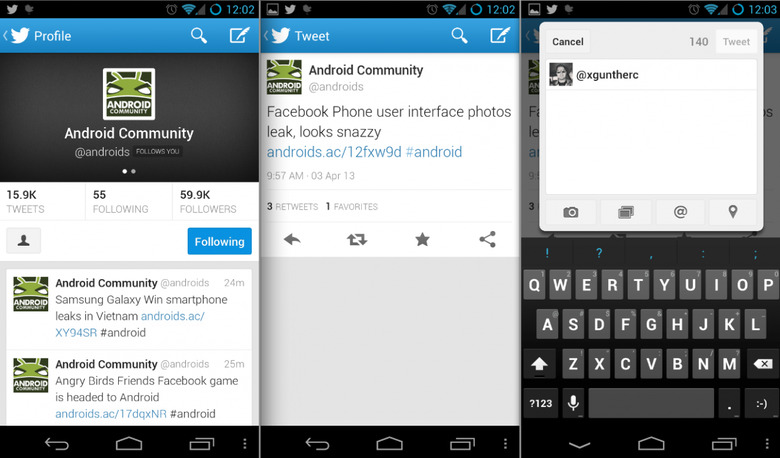 Twitter is starting to roll out updates to both its Android and iPhone apps, as well as its mobile web interface. Its most major update is coming to Android devices running 4.0 or higher. Its Android app has been revamped to a degree in which Twitter says "reflects a native Android experience". All of the updates will include more types of contents, including apps, photo galleries, and improved product listings.
In the Android update, there are now wider and taller timelines that fully utilize's your device's screen. There is a flat navigation bar, and you can tap and hold various parts of the app for quick actions. There are swipe gestures that let you navigate between tabs, and when you type, whether it'd be for a tweet or for searching, you will now be shown relevant usernames and hashtag suggestions.
One of the most major updates coming is the inclusion of new Twitter cards. Now developers are able to deeply-link their apps into their tweets. Their tweets will now display information of their app, including its icon, name, pricing, and more inside of the same tweet. Users will be able to view links directly from the app it was shared from, and if they don't yet have the app, they are redirected to download the app.
Users who tweet a URL linking to a web page with more than one featured image will now have a picture gallery preview shown in their tweet. Advertisers who lists products in their tweets will also be given an option to add two customizable features to their product, including things like pricing or rating. All of these features will be rolling out within the next few days, and will bring benefits to both users and developers.
[via Android Community]