Twitter Record Set By Super Bowl XLV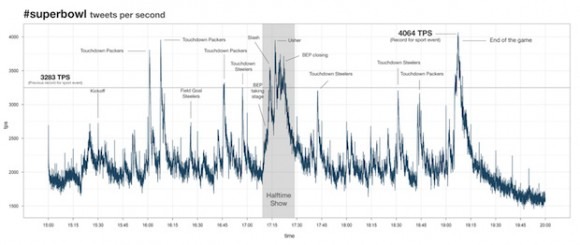 Super Bowl XLV has already broken the record for the most watched program with 111 million viewers, besting last year's mark of 106.5 million. The Super Bowl now has broken another record as Twitter has released information saying there were multiple times during the game when the TPS, tweets per second, record was broken.
Twitter users sent out collectively 4,064 tweets per second at the end of the game, claiming the title of the highest TPS (ridiculous name) for a sports related event. The previous record holder was in Japan during the past World Cup when the nation celebrated a 3-1 victory over Denmark and sent out 3,283 tweets per second. The Super Bowl reportedly beat that record six times during the entire broadcast, starting with the Packer's first score and the number increased with each following score, except the Steeler's field goal.
I'm sure the halftime show provided plenty of fodder for Twitter users as the Black Eyed Peas, Sting, and Usher each had plenty of mentions in the tweets. The most popular person by Twitter users was Usher, followed by the Black Eyed Peas, Slash, Eminem, and Christina Aguilera. Aaron Rodgers was sixth on that list, the highest a football player could rank in a event about sports.
While the Super Bowl did set a new TPS record it didn't break the all-time record for tweets, where Japan still reigns supreme with 6,939 tweets per second during the New Years in Japan. I expect future Super Bowls to break these records again, but this year's combination of a compelling game with entertainment snafus will make Super Bowl XLV hard to beat.
[Via TechCrunch]