Twitter for Windows Phone updates with new look, live tile support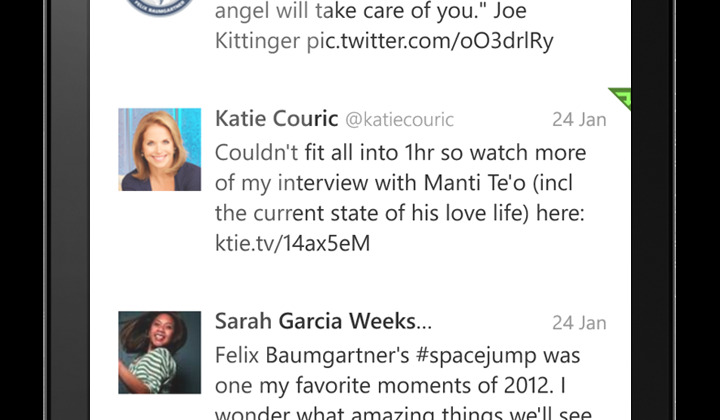 In the past, Twitter wasn't giving as much love to its Windows Phone app is it was to its Android and iOS offering. However, that changed today. The social media service has updated its Windows Phone app with a new design that "brings the app in line with other Twitter apps," and introduced some new features that make it easier to share and discover content.
The updated app includes improved navigation, including our new tabs: Home, Connect, Discover and Me. If you use the Twitter app on Android or iOS, this should seem familiar to you. The Home tab includes your main feed full of tweets from the people you follow. The Connect tab shows you tweets you've been mentioned in, as well as replies. The Discover tab is pretty self-explanatory, and it gives you recommended users to follow. Finally, the Me tab displays your Twitter profile.
The app also allows you to compose a tweet or search for content from anywhere in the app, thanks to new icon buttons in the Application Bar. And thanks to live tile support, you can pin Twitter accounts, lists and searches to your Windows Phone start screen, which gives you quick access to various Twitter content.
Twitter has been trying its best to make its user experience consistent and fluid across different platforms, and the company's update to its Windows Phone app proves that Twitter isn't ignoring the smaller mobile platforms. Twitter is also working to improve its user interface on BlackBerry as well, with an update back in December, and hopefully more to come in BlackBerry 10.