Twitter for BlackBerry updates with Connect and Discover tabs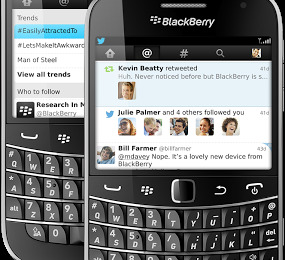 Even though BlackBerry 10 is just over a month away, Twitter is updating its BlackBerry app for users with soon-to-be older devices. The update includes the new "Connect" and "Discover" tabs, as well as some improvements on the navigation side of things. The Connect view displays mentions, retweets, favorites, and follows in one stream.
The "Connect" and "Discover" interfaces were introduced just over a year ago when Twitter overhauled with a redesign. While the Connect interface is meant as a one-stop place to see activity, the Discover tab is meant for finding content you might have missed from both your followers as well as other users on Twitter.
Twitter has been pushing these features pretty hard since their introduction last year, but it's a little surprising to see Twitter updating the app for older BlackBerry devices despite the upcoming BlackBerry 10 launch. However, the update should still prove useful to many users using older BlackBerry devices.
On top of the new user interface changes, Twitter also moved direct messages, lists, and favorited tweets to the "Me" tab, which buries them just like they are in the iPhone and Android apps. In any case, those interested in the update can grab it from the BlackBerry App World sometime in the next 24 hours or so.