Twitter for Windows Phone lets Cortana in on tweeting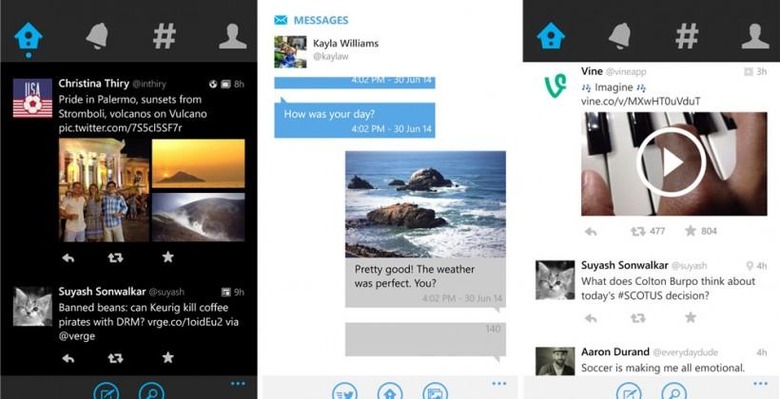 The official Twitter for Windows Phone app has been updated, adding Cortana integration for tweeting by voice, and improving how links browsed on your phone can be shared socially. The latest version, for Windows Phone 8.1 devices only, now allows users to tell Cortana – Microsoft's virtual personal assistant, aka Siri for Windows Phone – to fire out a 140 character message without having to tap it in themselves. It's a welcome improvement, though it remains to be seen whether Windows Phone fans, jaded by the ongoing token saga crippling third-party Twitter clients, will warm to the software.
Windows Phone was slow to get any sort of advanced Twitter functionality officially, and so third-party enthusiasts waded in to occupy the gap. Unfortunately, a limited number of Twitter access tokens put a hurdle in the way, with the more popular apps swiftly running out of capacity.
Twitter's own client won't bump into that limitation, but so far the compromise involved has been marginal features.
With this new version, it's now possible to share links from Internet Explorer straight to the Twitter app – something it's hard to believe wasn't there before, frankly – and photo sharing has been improved, too. Multiple photos can be added to a single tweet now, and those tweets with media from others now display fully in the home timeline.
That includes Vine videos, the short, looping clips, in addition to "other select content" according to Twitter.
As for Cortana's role, by saying "Cortana, Twitter new Tweet I still can't believe Ballmer is gone" it's possible to fire out a new message without having to go anywhere near an on-screen QWERTY 'board.
It's a free download, though Microsoft does warn that if you're running an older build of Windows Phone 8.1 you might encounter some issues loading it. Checking for an OS update first should prevent that from being the case.
SOURCE Windows Phone Store