Twitter for Mac Launching Tomorrow in Mac App Store?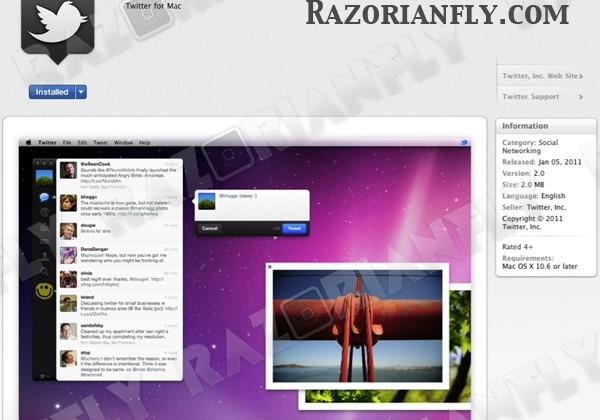 Twitter for Mac, which is one of the most popular Twitter applications for Apple=branded computers, is rumored to be getting an upgrade in just a matter of hours. With Apple announcing that the Mac App Store would launch on January 6th, people are already getting excited to see what's coming down the pipe from the digital storefront. While we already know there will be plenty of productivity applications available, we've yet to see what could come from the "other side" of the development process. If you're a fan of Twitter, or Tweetie/Twitter for Mac, then you'll be happy to know that Twitter for Mac is launching tomorrow with the Mac App Store.
As far as rumors go, anyway. According to the screenshot above, which was nabbed by RazorianFly, it shows us Twitter for Mac. Not interesting in of itself, but apparently the image was leaked right from inside the Mac App Store, and now it's believed that the application will launch tomorrow with the store.
There are new features coming along for the ride. There's a native support for retweeting now, and the application will now provide real-time updates. You'll also have the ability to drag-and-drop tweets, too. If the rumors are true, and the screenshot does indeed suggest that the application will be available tomorrow, make sure that Twitter for Mac is one of your first downloads. Especially considering it should be free.
[via 9to5Mac]