Twitter Audio Cards official; listen while you tweet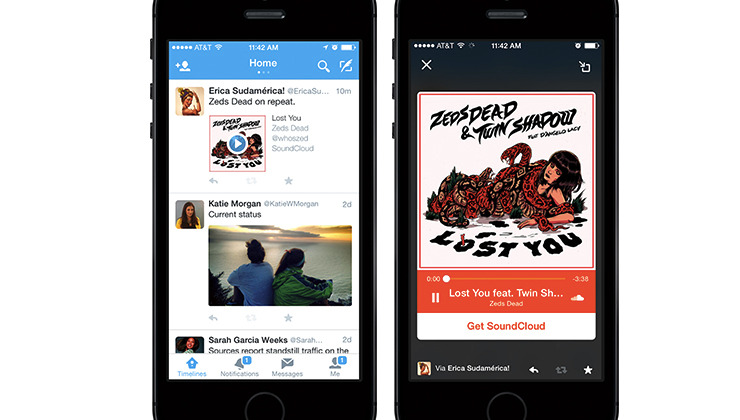 If you find a lot of music via Twitter, it can be a bit bothersome to have to migrate away from the app just to listen to a track. At least with the mobile version of Twitter, that's about to change. Twitter is announcing a new feature named Audio Card, which lets you click on a shared track for playback right in their app. You can also continue browsing your stream while the track plays, as it docks to the bottom of your screen.
Twitter's launch partner for this is SoundCloud, which has a bunch of artists and podcasts you can listen to. Twitter notes via their blog post announcing Audio Cards a long list of partners you can find via SoundCloud, but it's not immediately clear if these partners are the only ones for which Audio Cards will work.
Twitter says this is just the beginning, and that they're working on getting more partners to sign up. We'd think Spotify, which has strong Twitter ties, would make a great service to take advantage, here.
The aim seems to be exclusivity, and giving up-and-coming stars a platform to launch music. It's not clear if Audio Cards will be limited to new music or not, though.
It's a cool feature, but a bit new for us to call it a winner just yet. We're also not sure if this will be limited to the Twitter app proper, or if third-party apps can utilize this feature as well. that may be the make-or-break decision.
Source: Twitter