Twitter adds group messaging and 30s videos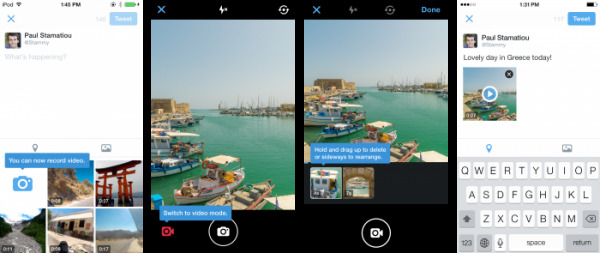 Twitter may be the social network where you tell the world what you had for breakfast, but new private messaging features now allow you to share it on a need-to-know basis. The support for private conversations – added to Twitter today, along with new video features that streamline the sharing of clips – builds on the social service's existing Direct Messages support, but expands them to an impromptu group of up to twenty people who needn't be following each other. It's the company's response to wildly popular instant messaging clients like Facebook-owned Whatsapp.
In practice, the group messages work pretty much in the same way as the individual DMs would. After selecting several other Twitter users, you broadcast a single private message to them all.
Each reply is then kept in the same conversation thread, invisible to everyone but those people who have been included.
As for the video editing, that too seems like a response to other social platforms, particularly Instagram. While Twitter does have Vine, the new video support is baked straight into the core experience, just like photo sharing has been.
The new integrated camera feature in the Twitter smartphone app allows a video of up to 30 seconds to be recorded. Individual clips can be pieced together into a single mini-movie, with support for trimming and editing each section.
Once in the timeline, they show up as a thumbnail and can be viewed directly within the Twitter app.
Those using Twitter for iPhone will also be able to import videos already recorded and saved in their camera roll, something Twitter says is coming to its Android app soon.
Both new features will be rolled out to all Twitter users in the coming days.
SOURCE Twitter