Twig Pod folding monopod sticks in the ground for hands free photos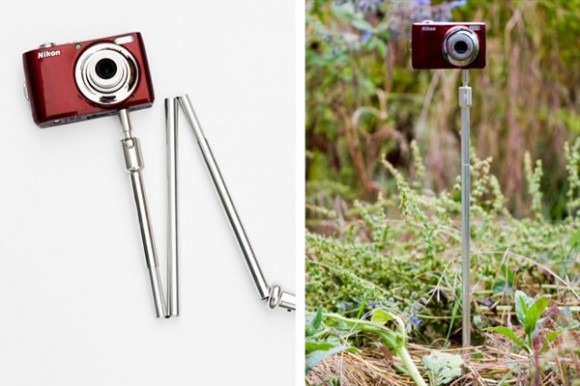 If you are the type of person that goes for lots of hiking, camping, or other activities where you find yourself outdoors taking photos a new monopod has been unveiled that might be perfect for you. The idea behind the Twig pod is pretty cool. There is no need for a tripod to allow you to take hands free photos since a tripod is a lot more bulky than a monopod if you have soft ground nearby. This is where the Twig Pod comes in with its pointy spike end.
The Twig Pod is a monopod designed for light point and shoot cameras and the other gear that folds down like a tent pole for easy storage. When you want to use the Twig Pod, you just let the thing spring together, thread your camera onto the Twig Pod camera mount, and stick it into the ground. The Twig Pod folds into four 8-inch sections making it easier to fit into a crowded bag.
The head of the Twig Pod is a ball that allows the camera to be rotated into any position and the thing weights about half a pound so you will hardly feel the extra weight. The only downside I see to this is that ground that is too soft could see your camera standing upright one second and tumbling over to its death the next. You can pick the Twig Pod up right now for $28.
[via Wired]