Twelve24 ClockONE: a giant e-ink clock powered by a tiny battery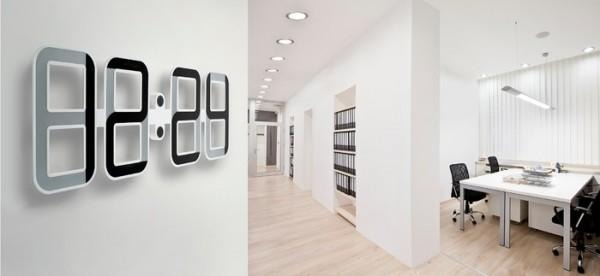 Tired of squinting to see the clock? That won't be a problem with Twelve24's ClockONE, a giant e-ink clock styled after traditional alarm clock displays featuring a magnetic wall "hook". The ClockONE is simplistic, and most notably it is powered by a single coin-sized battery, which will allow it to run for an entire year. There aren't many features to it because features aren't the point: it aims to be simple to use, doing what it does well without any unnecessary frills or hassle.
The ClockONE is primarily a clock, but will double nicely as a piece of modern art in the home or office. Because it is mounted on a magnet, it can be removed and placed elsewhere with little fuss. And for best fitting in with the decor, the maker has it in a handful of color options: Pink Oasis, MaiTai, Bright Moss, Blue Sky, and Snow White (the last of which is featured above).
The use of e-ink means the clock will be easily visible despite angle and ambient light levels, in addition to making it sip power. There are one-touch controls and the ability to toggle over to a 24 hour clock format. The rear panel is made from aluminum, the buttons from soft rubber, and the top housing portion from anti-glare acrylic.
As you'd probably expect, the production is being funded through Kickstarter, where the makers are seeking $200,000. Thus far, $36,000 or so has been raised with 29 days remaining. Those who pledge $100 will get a single ClockONE unit, with shipping being slated for May 2015.
SOURCE: Digital Trends