Tweetdeck tipped to get advanced features for a price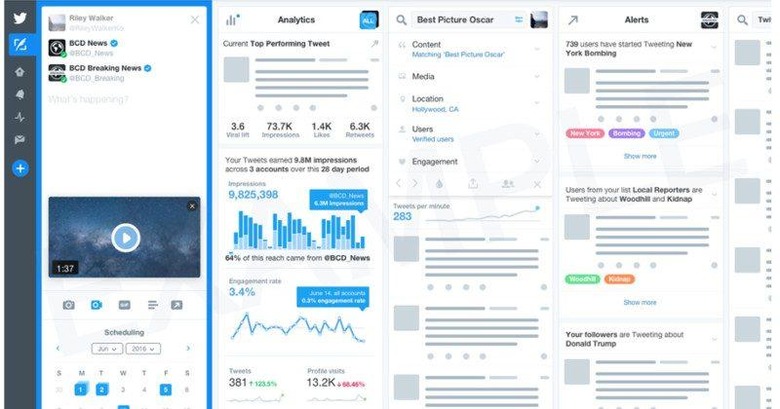 Given its rather unpopular attitude towards third-party apps, there was some well-founded apprehension when Twitter acquired Tweetdeck. Indeed, the multi-column Twitter client has lagged behind the official Twitter client though it still remained the tool of choice for many professional Twitter users. It seems, however, that Twitter will be making up for lost time soon, by introducing advanced features soon. However, those features will apparently come at a monthly cost, though advanced users will probably be willing to pay whatever price Twitter demands.
Tweetdeck was born out of the need to juggle multiple Twitter accounts, back when the official Twitter apps didn't support such a feature. Although Twitter eventually implemented that feature, not to mention acquire Tweetdeck, the multiple customizable columns still gave Tweetdeck an edge over the rather limited presentation of the official Twitter clients.
Tweetdeck is very much a power Twitter user tool, in contrast to the more generic and simpler Twitter app. It is commonly used by those who have to work with multiple accounts, including both personal and work accounts. As such, it's commonly used as a professional tool and needs more professional features. And according to this latest tip, those are already in the works.
Those features will supposedly include alerts, trends, advanced analytics, audience insights, and more. And those can all be crammed into a single dashboard view to see everything at a glance. Regular Twitter users will probably have no need for these new tools, but professionals will find them to be a huge benefit, and they're exactly the kind of audience Twitter wants.

That's probably because this kind of audience will be willing to pay for those tools, which is what Twitter will supposedly do. There will be a monthly subscription attached to them, though there is no word yet on how much that will cost. Regular Tweetdeck users need not worry, though, because the basics will still be free. They shouldn't be surprised, however, if ads start popping up on the free version, too.
VIA: @Andrew Tavani