Tweetbot for Mac hits App Store with hefty price

Though the price might be a bit of a turn-off for those of you not familiar with the power of the environment, Tweetbot has hit the Apple desktop environment today in a big way. This Twitter app is up for $19.99 USD, and for that price they've brought on one whole heck of a lot of features in this final first release (that being non-Beta, as it were). With this brand new universe for the Twitter king you'll get Retina Mac Support, integration with your Notification Center, and even syncing with iCloud – of course you'll need 10.8 Mountain Lion for that.
This update ties together with the iPhone and iPad versions of the app, Tweetbot now ready for the whole Apple universe. This update brings on the Twitter timeline for your desktop with single or multiple window view as well as column view, whatever you do so desire. This app has inline media preview – this working with several kinds of media such as photos and videos from multiple 3rd party networks. If you're getting too much of a good thing from people you'd rather not hear from as much as you do, you can block and report users for spam and/or mute users, hashtags, clients, and keywords, too!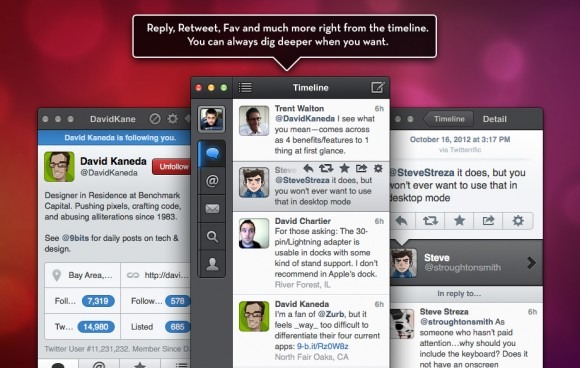 This release includes the ability to save tweet drafts for future publishing and to use lists as timelines, too. You can create a list of co-workers and friends and set it separate from the rest of your feed – or just make one for the comedians in your life. You can make sure you're looking good to the rest of the world from this app as well, with the ability to edit your Twitter profile and avatar right from the Tweetbot app.
You can see what's popular around the world with both local and worldwide trends support, following the hashtags as well as the keywords that you might never otherwise be seeing, right near your doorstep. We'll be having a more in-depth look at this app later today – if you want to grab the app right this minute, you certainly may. You can find it the Mac App Store under "Tweetbot for Mac" and you will indeed be dropping no less than $19.99 for it – believe it or not!