Tweetbot For iOS Updates With Chrome, Vine, And Flickr Support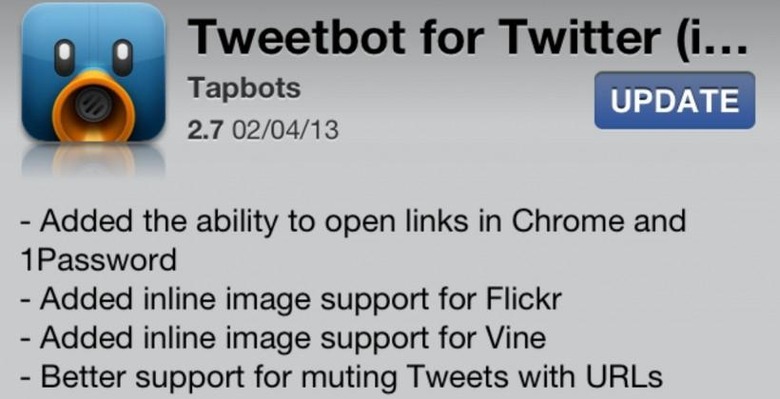 One of the best Twitter clients on iOS received a big update today. Tweetbot now adds support for a number of services, including Vine, Flickr, 1Password, and Google's Chrome web browser. Links will now be able to open in Chrome instead of Safari, and images from Flickr and Vine will open up a preview under the tweet in the app.
Many users prefer Chrome over Safari for a lot of different reasons, and now Tweetbot makes it easy for you to specify which browser you want to open links in. Also, if you use 1Password, you can use the app's built-in browser to log you into websites automatically, a handy feature for those wanting to stay secure online.
On top of that, embedded Flickr and Vine views are also available. Instead of having to tap a link in a tweet to open up a Flickr image or Vine video, you can now see a small thumbnail that shows up inline with the rest of the tweets in your feed. These updates aren't big by any means, but it's a significant update, and it's nice to see the developers behind Tweetbot giving the app some attention.
All of these services that Tweetbot now supports have become more and more popular recently. Google Chrome on iOS is one of the most popular browser choices on the platform, and Flickr has become the new go-to source for sharing images after the Instagram fiasco. And with Twitter's new Vine app, mini-videos are starting to take over the microblogging platform.
Tweetbot for both iPhone and iPad costs $2.99, and the update is available now in the iTunes App Store.