Turn your garage into a full-service gas station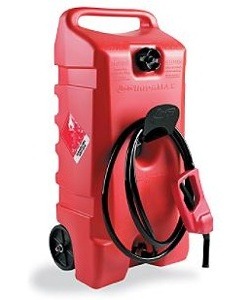 I don't have a giant yard, though when I'm mowing the yard I tend to wish it was smaller. But regardless, I don't exactly go through that much gas between my mower and weed-eater. However, I have family members that are constantly lugging around small gas cans to keep their mowers going.
That's where the Flo N'Go Portable Fueling System comes in handy. The giant fuel pump holds a whopping 14 gallons. Luckily it's on wheels, so you can tote it around with relative ease.
If you're worried about spills, it is equipped with three different shut off valves to keep your gas in the tank. One of these will only set you back $179.
Flo N' Go Portable Fueling System [via acquire]