Tunelight MP3 Speaker System lets you groove at your desk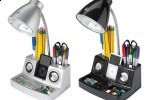 There are tons of iPod docks out there but this one certainly does make it easy to keep your accessories all in one place, especially on that one surface that's always likely to be cluttered: your desk. The Tunelight MP3 Speaker System is part music system, part organizational system, and we're okay with that.
This system features the key ingredients of a desk organizer. It has a task light and compartments to hold your belongings like paperclips and post-it notes. But besides these useful but mundane features, it also has an iPod dock and speakers built in.
It works with any MP3 player and makes it easy to listen to your music right at your desk. It connects by means of the headphone jack. So, this thing isn't really a dock, but it's a convenient music player, for sure. You can get the Tunelight MP3 Speaker System now in silver or black for $19.99.
[via Chip Chick]