Tumblr is taken offline to fix network bug [UPDATE: some blogs back up]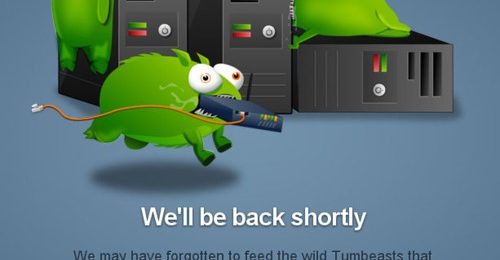 Last week, Tumblr became the victim of hacking group GNAA, which exploited a security hole that allowed it to post inflammatory content on blogs that quickly spread across the service. Now the blogging platform is experiencing problems again, this time with network issues that were causing various user problems. In response, Tumblr has been taken offline while the company fixes a network error.
Around 3PM PST, Tumblr sent out a tweet stating, "We're experiencing slow loading or intermittent errors on certain pages and are working quickly to restore performance." The problem was evidently bigger than anticipated, because a couple hours went by with the problems persisting. Then the website went completely offline.
The website's outage was followed by another tweet: "Tumblr has taken the site down in order to resolve a network issue. We will update as we know more." This marks the latest in a long string of issues Tumblr has been facing lately, with the blogging service having gone down back in October for several hours. Needless to say, more than a few users are expressing their grumpiness over the issues.
Update: Tumblr just sent out another tweet stating that "Recovery has been slowed by affected caching servers. Blogs are now coming online as these caches warm up." As of right now, Tumblr.com still returns an "Oops! Chrome can't find this website" error, but expect to see blogs coming back online soon if all goes as planned.