Tumblr For iPhone And Android Tweaked: Faster And More Messaging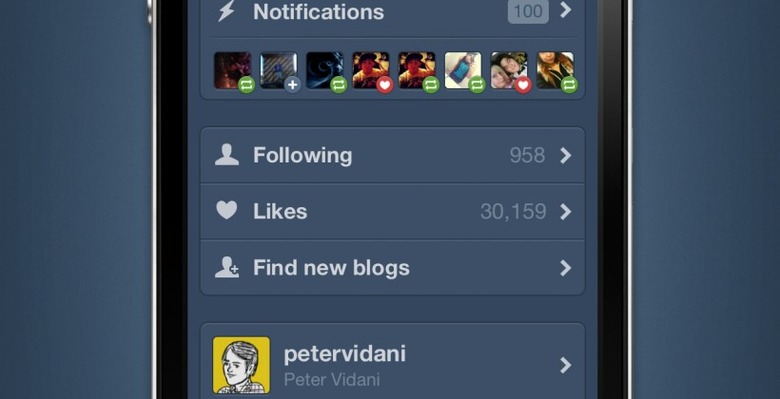 Microblogging service and teen-sensation Tumblr has pushed out new updates for its mobile apps, streamlining the reblogging system and making mobile messaging more straightforward. The new iPhone and Android apps – both free – also update the notifications system, allowing you to instantly see new messages and other alerts, and it's possible to find new blogs to follow from other social sites you're registered with.
Allow the new Tumblr apps to look through your phone contacts, or dip into your Facebook friends list, and it can pull out possible blogs from friends that you might not already be following. There's also the ability to sign up to a new Tumblr account from within the app.
Meanwhile, the Android tag-tracking feature has been brought over to the iOS app, and simply holding down the reblog icon instantly reshares that post to your account. Holding down the Like button also summons up a new sharing menu too.
Finally, there's unlimited access to Tumblr Fan Mail, though the site is still shying away from setting itself up as a direct IM option (despite it being a persistent request from many users). You can find the new Tumblr app in the App Store and on the Play market.