TronicalTune Robo-Tunes Any Guitar In An Instant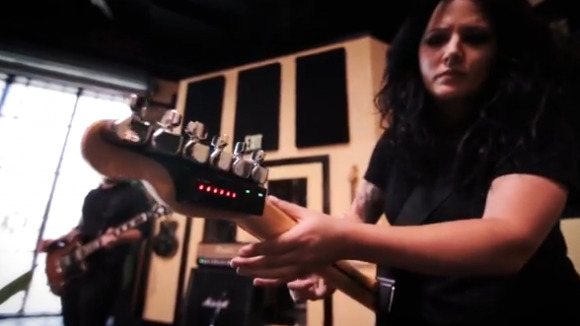 The Tronical device called TronicalTune is a robotic accessory that automatically tunes a guitar without need for any sort of in-shop modification to the instrument. What we're seeing this week is the machine hooked up to a set of guitars, activated, and literally listening in and turning the cranks on its own. This machine and its ability to tune so quickly becomes doubly interesting when you find you're able to switch tunings in the middle of a song.
The folks at Tronical have shown this little machine off this week after its been (relatively silently) on the market for a very short amount of time. In the short amount of time it's been available, Tronical suggests they've seen more demand than expected – and, of course, are glad to meet that demand through the upcoming end-of-year season. Have a peek at this machine in action and see how you find it.
This machine attaches to your guitar in "under 10 minutes", so says Tronical. You're not permanently attaching the TronicalTune device to your guitar, and you're not going to have to modify the guitar at all to attach it – you'll not have to gut it, that is. Once you've got it attached, all you'll have to do is press a button and strum the strings.
TronicalTune is able to work with a collection of modes – up to 18 tuning presents and both single and multi-string instruments as well. Tronical suggests that this machine is compatible with "hundreds" of guitars, both electric and acoustic, and it'll be available immediately if not soon through Tronical for a cool $329.

As a bit of an added bonus, this robotic beast is able to grow accustomed to your guitar over time. TronicalTune tracks overtones and adjusts the way it tunes accordingly – it's almost creepy!