Tron Lightcycle PC case mod is the coolest ever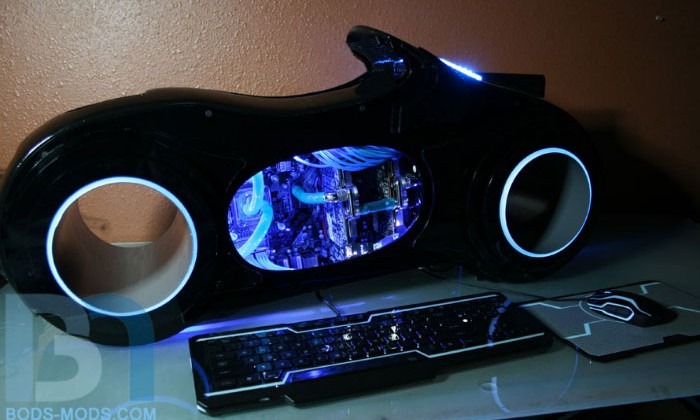 OMG! I am a big fan of Tron. I watched the original as a kid and really liked the new flick too. My favorite thing about Tron has always been the lightcycles. I spent more quarters than I can count in the arcade in the 80's when I was a kid playing the official video game trying to perfect my lightcycle combat. A new case mode that has surfaced today is one of the coolest I have ever seen and it looks like a lightcycle.
The detail that the builder put into this case is just insane. The design is based on the lightcycles from the new flick and it is made in the appropriate glossy black with blue lighting. In one of the photos, the guy has paired the case mod with a keyboard and mouse from Razer that has the same blue lighting. From what I can tell inside the case are an EVGA mainboard and a custom liquid cooling solution with the appropriate glowing blue fluid.
The coolest part of the entire case mod for me is the way the guy made the custom curved radiator that sits inside the rear wheel. The designer says that the case mod required lots of time in a 3D program for the design to be able to make the case small and fit all the hardware inside. The main parts are made from cut acrylic. This guy deserves to win whatever the contest is that the case is entered into, so vote for this!
[via Bods-mods]