Trinus 3D printer is a robust all-metal design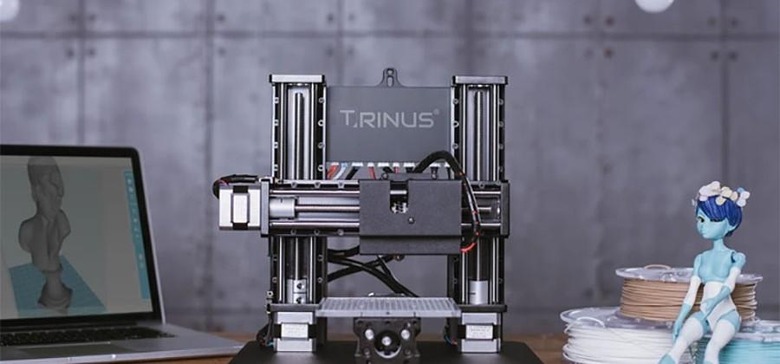 It's not uncommon for a cheap 3D printer to be made with cheap parts. Lots of plastic and assembly required are good ways to keep costs down for the manufacturer, but cheap parts mean a printer that it won't last as long for the end user. A 3D printer called the Trinus has turned up on Kickstarter and this 3D printer is affordable, but made using all-metal parts and higher quality constructing than you might expect. The Trinus 3D printer sells for well under $500.
The construction is all aluminum and steel parts using a metal frame and metal internal components. There are no belts or plastic gears to wear out. Trinus has interchangeable 3D printing and laser engraver heads. Trinus will work with PLA, ABX, PC, flex, wood, and other materials. Assembly of the printer is straightforward with 11 units that have to be attached.
The designers of the printer say that someone with no technical experience can assemble the 3D printer in 30 minutes. The core component of the printer is a single-axis slide that is commonly used in industrial machines, but rare in desktop 3D printers. The metal internals mean the printer stays calibrated. The device can print at speeds up to 70mm/sec and can run at a max speed of 150mm/sec. The minimum layer height is 50 microns.
The laser engraver head can engrave wood, leather, food, cork, and other soft materials. Trinus is on Kickstarter seeking $50,000 and has raised over $241,000 at the time of writing with 26 days to go. A Trinus printer will cost $299 without the laser engraver head including a 45g pack of PolyMaker filament. Options include $40 for a heated bed and $25 for 750g or PolyPlus filament. If you want the laser engraver head as well, the Trinus will cost you $379 or more.
SOURCE: Kickstarter