Trimble shows off rugged Yuma 2 tablet computer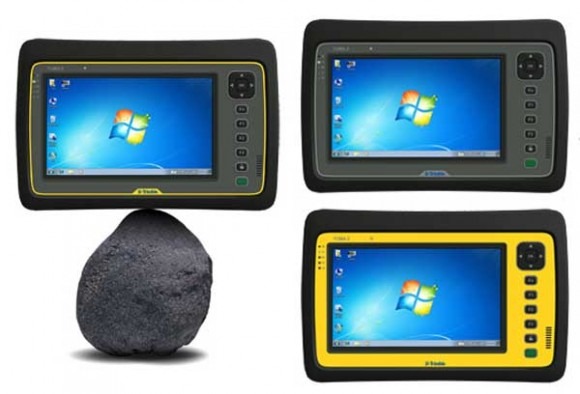 Trimble has unveiled a new rugged tablet computer running Windows 7 called the Yuma 2. The rugged tablet computer is designed for field workers in the construction, transportation, public safety, forestry, and other outdoor service related industries. The tablet features a seven-inch capacitive multitouch screen.
The device is designed to be easy to hold and measures 6.3-inches by 9.6-inches with a weight of under 3 pounds. The display uses technology to make it clear and easy-to-read in direct sunlight. Trimble promises that the display is readable even in the brightest of outdoor conditions. The tablet computer can be had with a dual mode cellular modem allowing connectivity to mobile data networks via GSM or CDMA cellular networks when available.
The operating system of the computer is Windows 7 Professional. The machine runs a 1.6 GHz Intel Atom dual core processor paired with 4 GB of DDR3 RAM. Storage is to a 64 GB SSD, and the tablet has a dual battery giving eight hours of runtime. There are a number of options for the Yuma 2 tablet, including a larger 128 GB SSD, and an extended battery set providing up to 16 hours of operation.
The touch screen can be used with fingers, a stylus, or special capacitive gloves. The tablet also can be used in portrait or landscape modes with orientation changing automatically thanks to an accelerometer inside. Other features include a five-megapixel camera that can take video or still photos with geo-tagging and an integrated GPS receiver. The tablet meets MIL-STD-810G standards for drops, vibration, and humidity. The Yuma 2 is expected to be available in early Q4 at an undisclosed price.