Trendnet Unveils New Megapixel Outdoor Night Vision Security Camera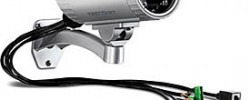 Trendnet is typically showing off new home networking gear when we talk about them. Today the company has unveiled a new security camera designed to be mounted outdoors to keep an eye on what is going on around the home and office. The camera is called the SecurView Outdoor PoE Megapixel day/night camera. It carries model number TV-IP322P and has an impressive night vision range.
The camera can see in complete darkness up to 66-feet away. The camera is rated IP66 weather proof and has a vandal resistant enclosure. It ships with a bracket for all or ceiling mounting of the camera and has sun visor as well for optimum image quality in the daytime. The camera needs no power outlet to operate. It gets the power and connectivity it needs via an Ethernet cable using Power over Ethernet tech.
The camera has HD resolution at 1280 x 1024 and uses H.264 image compression. The Trendnet software used with the camera allows the user to monitor up to 32 different cameras at one time the camera also has input and outputs for things like network into an alarm system, overlaying date and time details, and mask overlays to hide sensitive areas. The camera feed can also be viewed using smartphone apps for the iPhone, Android and other devices. The camera is available for $599.99.