Trendnet unveils new 450Mbps dual-band Wireless N USB adapter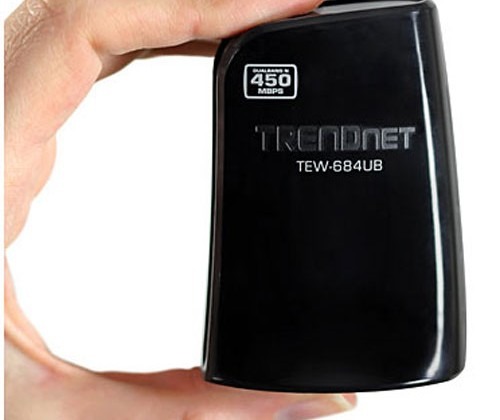 Trendnet is always offering up more and more networking products for computer users to take advantage of inside their home or office. The latest product from the company is the new TEW-684UB version 1.0R USB network adapter. This network adapter supports fast data transfer speeds of up to 450Mbps. The cool thing about this adapter is that you don't need to use the expansion port on your notebook and it can be used with notebooks lacking expansion ports.
USB network adapters are also great for desktop users that don't have expansion slots left internally or just don't want to crack their computer open. This adapter is designed with a longer USB cable that allows you to place the adapter away from your computer so it won't block other USB ports. The adapter gets the power it needs to operate from the USB port as well. It supports WPS for easy and secure network set up.
The dual band design of the adapter means that it will operate on both 2.4GHz and 5GHz wireless networks. HD video can be streamed over the less used 5GHz bandwidth for smoother playback if desired. Other features include a MIMO antenna and much more. Naturally, you will need a router that can support the dual bandwidths and speeds that the adapter is capable of. This router is available right now directly from Trendnet for $82.99.
[via Trendnet]