TRENDnet TEW-691GR 802.11n router pushes wireless to 450Mbps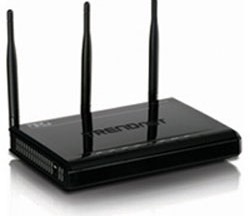 Wireless networking with 802.11n is fast enough for many of us who only want a wireless router to connect a laptop to the web without cords. If you use your wireless network for moving lots of large files from computer to computer or streaming HD video you have probably wished for higher speeds. TRENDnet has unveiled a new 802.11n router called the TEW-691GR that promises to hit speeds of 450Mbps.
The router operates on the 2.4GHz spectrum and uses three spatial streams per antenna to hit the 450Mbps max. Normal 802.11n routers have a maximum speed of 300Mbps. Wireless coverage is boosted with MIMO tech and the router has a Gigabit WAN port and four Gigabit Ethernet ports for local computers.
Security is a big feature with the router as well with encryption and a firewall to protect the network. Traffic needing bandwidth is prioritized by the router with QoS technology. Wi-Fi Protected Setup makes it easy to setup a connection with supported wireless adapters with the press of a button on the adapter and the router. The TEW-691GR will ship in May for $159.99.