TRENDnet TEW-648UB is world's smallest 150Mbps WiFi-n dongle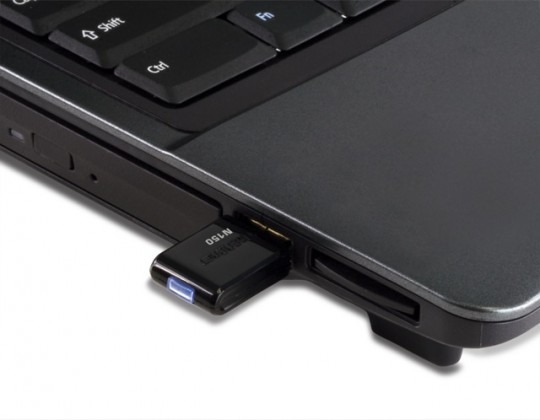 If you're a sucker for a dinky dongle then roll on up; TRENDnet have just launched what they're calling the world's smallest WiFi 802.11n USB adapter.  The TRENDnet TEW-648UB is a little larger than a quarter coin, measuring 1.3-inches long, but boasts 150Mbps theoretical throughput speeds.
Now you may be looking at that and wondering "where's the rest?", since 802.11n can theoretically support up to 300Mbps data rates.  Unfortunately the TRENDnet adapter lacks MIMO for that throughput doubling, though it still should be faster than WiFi b/g adapters many users already have.
There's also WPS one-button-connection support, and TRENDnet are suggesting you'll see three-times the range of a WiFi g network.  The TEW-648UB has an MRSP of $24.99, but TRENDnet expect street prices under $20.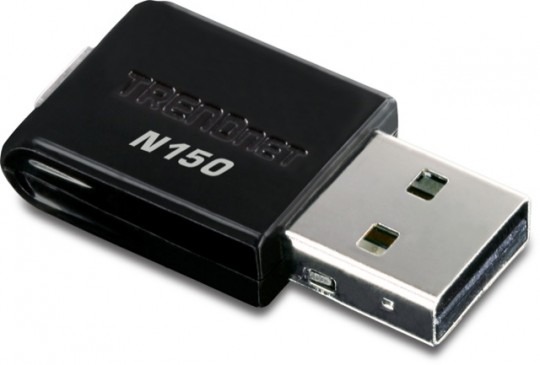 Press Release:
World's Smallest Wireless N USB Adapter Now Available from TRENDnet

TORRANCE, Calif. -September 22, 2009-TRENDnet, a best-in-class wired and wireless networking hardware brand, today announces the availability of the world's smallest 150Mbps Mini Wireless N USB Adapter, model TEW-648UB. The ultra compact form factor is slightly larger than a U.S. quarter, measuring a remarkable 1.3 inches (3.3 cm) from end to end.

The 150Mbps Mini Wireless N USB Adapter connects a laptop or desktop computer to a wireless n network at up to 6x the speed and 3x the coverage of a wireless g connection. One-touch Wi-Fi Protected Setup or WPS technology eliminates the hassle of entering complicated codes in order to connect to a wireless network. Simply press the WPS button on a compatible router (most TRENDnet routers feature a WPS button), then press the WPS button on TRENDnet's 150Mbps Mini Wireless N USB Adapter, confirm that you want to connect, and you're connected!

Advanced wireless encryption protects your valuable data. Wi-Fi Multimedia (WMM) Quality of Service prioritizes important video, audio and gaming traffic to create a premium wireless experience.

"We have looked high and low and are confident in our claim that the TEW-648UB is the smallest adapter on the market today. In fact t it is half the size of the average wireless N USB adapter." stated Zak Wood, Director of Global Marketing for TRENDnet. "Despite its' diminutive size, it performs well. We welcome all independent tests against any other 150Mbps (or 1x1) adapter on the market today. The adapter features an equally small price tag. With a predicted street price in the low $20 range, this adapter sets a new price-to-performance standard."

The 150Mbps Mini Wireless N USB Adapter, model TEW-648UB, has an MSRP of US $24.99.

This product will be available from all of TRENDnet's online, retail, DMR, and distribution partners.