Trendnet outs new Nano Wireless Extender and cloud camera

Trendnet is a company that's been around for a long time producing all sorts of networking hardware and other peripherals for computer users and other needs. The company is probably most famous for its line of network adapters, particularly power line networking adapters and routers. Trendnet also makes an interesting lineup cloud-based cameras for security and other needs.
The manufacturer has announced availability of a new nano wireless extender called the N150 Nano Easy-N-Range Extender. The networking adapter is model number TEW-713RE and it is designed to extend the wireless network easily. The goal of the product is to bring Wi-Fi coverage to areas of the home where wireless connectivity is poor.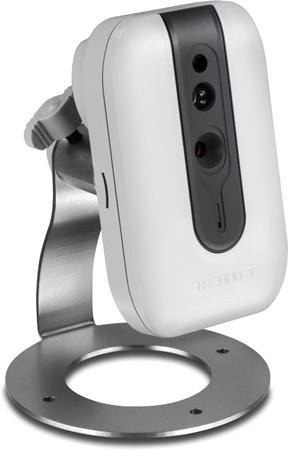 This can be a very common issue in multistory homes or larger homes where some rooms simply can't get a decent Wi-Fi signal to allow computers and game consoles to go online. To use the range extender, all you need to do is plug it into an outlet in an area of the home that still has at least two bars of network connectivity from the wireless router.
A button press on the range extender adapter automatically syncs security details with compatible wireless routers and the newly extended network is ready to go. The device will ship on the 20th for $44.99. Trendnet is also announced a new product in its popular cloud camera line called the TV-IP762IC Wireless HD Day/Night Cloud Camera.
The camera is designed to allow home or business owners to view security footage over the Internet. The device connects easily to a wireless network and features night vision allowing you to view what's going on up to 16 feet away in complete darkness. The camera supports 720p HD resolution video and connects wirelessly to high-speed 802.11n wireless networks. The camera also supports streaming audio allowing you to hear what's going on in the video and it features motion detection. The camera can record video to a memory card and it will ship this fall. Pricing for the camera is set at $149.
SOURCE: Trendnet
SOURCE: Trendnet