TRENDnet announces new 300Mbps Wireless N ADSL 2/2+ Modem Router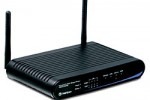 TRENDnet has announced the launch of their 300Mbps Wireless N ADSL 2/2+ Modem Router (model TEW-635BRM). This device not only delivers internet access, but high-performance wireless networking in a single device so there is no need to purchase additional hardware.
The Wireless N ADSL 2/2+ Modem Router is compatible with most Internet service providers with ADSL-based networks. Brian Chu, IT Director of TRENDnet said, "We incorporated a built-in Wizard that auto-detects the type of ADSL service provided and guides users through the setup process." This device is a 4-port switch that allows you to hardwire computers, media players, storage devices, gaming consoles and much more.
Physical setup is as simple as plugging a phone line into the built in RJ-11 ADSL port, plugging in the power supply and connecting your computer via Ethernet cable. Built-in Wi-Fi allows you to connect without wires and not worry by using the latest in wireless encryption and a double firewall to stay protected. Using advanced antenna technology (MIMO) you will get a broad range of coverage and minimal dead spots.