Transformer Pad TF300TL LTE tablet revealed with Tegra 3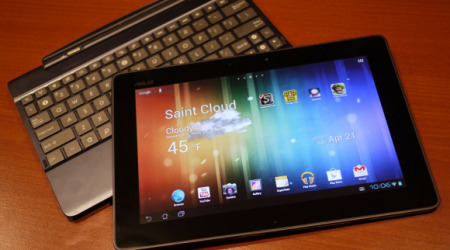 It appears that the quad-core ASUS Transformer Pad TF300TL tablet will be hitting Germany and Austria later this month, complete with support for 4G LTE. German site TechFokus reports that a press release gives the TF300TL a middle of August release for both countries, so it won't be much longer before it launches in at least some parts of the world. At the moment, it's still unknown when it will arrive in the United States, or any other countries for that matter.
The TF300TL is expected to cost around €629 ($772) if you want the optional keyboard dock, and €529 ($649) if you don't. ASUS has been building this up as the first quad-core 4G LTE tablet, and it comes complete with a NVIDIA Tegra 3 processor. You're packing some power under the hood, and you've got 4G LTE to boot. What more could you want?
According the ASUS announcement, the tablet also comes with 32GB of storage, 1GB of RAM, a 10.1-inch display capable of 1280 x 800, and Android 4.0 Ice Cream Sandwich installed. The TF300TL will come in the same colors as the currently-available Wi-Fi only version (red, white, and blue), and German carrier O2 will be offering a special white tablet. It all sounds great, but as stated above, we're still waiting for ASUS to announce it for other countries.
If this this tablet is indeed landing in Germany and Austria later this month, then it may not be long before ASUS starts talking about launch in additional countries. That, of course, depends on how quickly the company wants to release the tablet worldwide, but we're hoping for a speedy announcement. Stay tuned, as we'll update you if ASUS makes any announcements for the availability of the TF300TL in other countries.
[via The Verge]