TrackingPoint 500 AR Series smart rifles make hunting easy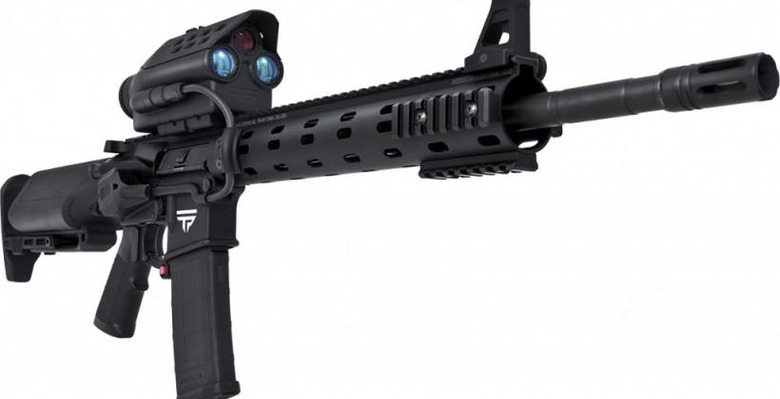 It's rare that we'll cover a firearm here on SlashGear, but when TrackingPoint shows off a smart automatic rifle series like the one we're seeing today, we've got to change a tune. What you've got here is the TrackingPoint 500 Series AR rifle, working with a variety of technologies that make certain the carrier is the most accurate – machine accurate – in the field.
This rifle series is made for tactical forces, military, special ops, or what TrackingPoint describes as the "modern hunter." Take that how you will – we'll assume they're still hunting animals, as is shown in the demonstration video presented this week.
This device makes a variety of shooting positions accurate, including kneeling, standing, or "lying beneath a vehicle" – presumably because you're sneaking up on a deer in a parking lot. Or because you're in the military, of course.
TP AR Networked TrackingScope Specs

Max Target Velocity – 10 mph

Magnification – 2-12x

WIFi – 802.11g

Display – 800×600 LCD

Objective lens – 25mm

Laser Range Finder – 750 yards

Image Sensor – 14.6 Mpixel CMOS

Operating Temperature Range – -20C to 50C

Barrel Reference System Laser – 650 nm

TTX Range – 500 yards

Microphone Sensitivity – Whisper

Battery Type – Li Ion
The TrackingPoint 500 Series AR rifle works with TTX – that's Tag Track Xact technology. With it, users are able to track and engage targets with accuracy at the same time as they're firing at semi-automatic speed. Each rifle in this series also works with target tracking, stabilized target selection, and guided firing.

These three PGF rifles, offered in 7.62, .300 BLK and 5.56 calibers, will be available soon. And we wouldn't mind having one when we're playing Titanfall, either.