Tracking device ideal for young or stupid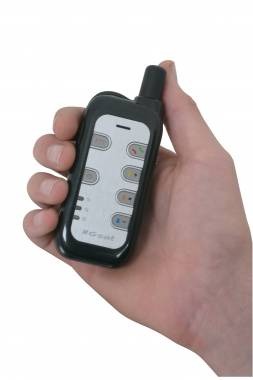 It might look like a remote bomb detonator, but in fact this Globalsat TR-101 is designed to keep you safe.  Basically a GSM mobile phone and GPS mashup, it can automatically send its location by either text message or phone call whether prompted by hitting one of the three predial keys or by ringing/texting it remotely.  There's also a panic button which automatically sends your location to three different people.
You could either use this for good or for evil, really.  In the former category, it would be a good way of keeping in touch with and monitoring a child or elderly relative; the fact that it's a quad-band cellphone means you can have normal conversations, with the added reassurance of being able to pinpoint them on Google Earth should you be concerned.  In the latter category, you could surreptitiously hide the TC-101 in someone's bag or car and, as long as the SiRF Star III GPS chip can track the positioning satellites, keep an eye on their movements.
It's available in the UK for £149.98 ($290) from Maplin
TC-101 [Globalsat]