TP-LINK TL-SC4171G WiFi IP Camera Review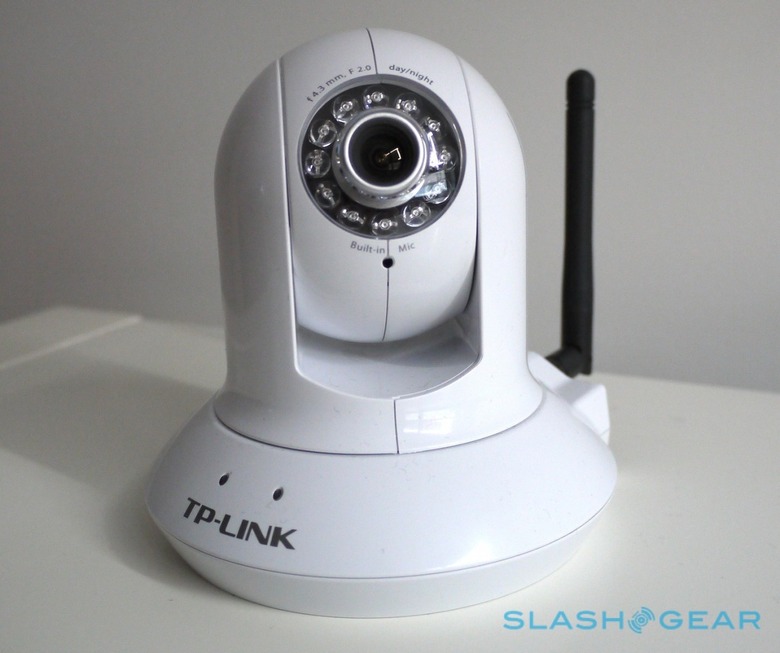 Burglars rummaging through your holiday gifts; cats shedding hair on your favorite jumper; your in-laws pulling up in the drive – sometimes it would be nice to have another set of eyes, just in case. TP-LINK can't graft extra eyeballs into your face, but its TL-SC4171G Pan/Tilt Surveillance Camera can give you real-time video monitoring with nothing more than mains power and a WiFi network. Check out the full SlashGear review after the cut.
Hardware
With an RRP of $269/£190 (street price closer to $213/£156) the TL-SC4171G is certainly not the cheapest IP camera around. Still, you do get a few extras: integrated WiFi b/g for a start, alongside the regular 10/100 ethernet, as well as pan/tilt support for remotely controlling the view. 4.4-inches tall, the lens assembly resembles a glossy white plastic tennis ball; TP-LINK throw a wall mounting kit in the box, or you can simply stand the camera on a window-ledge.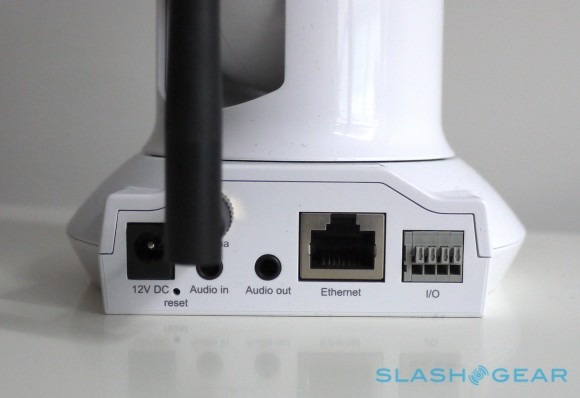 Aside from networking, connectivity includes a 3.5mm input for an external microphone or line-in audio, a 3.5mm output for external audio, and a terminal block for wiring up an optional alarm input and an optional output. The 0.3-megapixel (640 x 480) f2.0 CMOS sensor has a 48-degree horizontal, 36-degree vertical lens and is surrounded by a ring of twelve infrared LEDs that automatically turn on in low-light situations. There's also an integrated microphone.
As for the pan/tilt base, the TL-SC4171G can rotate 354-degrees and tilt 125-degrees. There's no optical zoom, but a 10x digital zoom is supported in the browser-based viewer; still, when you're dealing with 640 x 480 resolution to begin with, blowing that picture up has an obvious loss of detail.
Performance
Setup is straightforward: plug in the AC adapter and the supplied ethernet cable to your router. PowerLine networking would be a neat addition, but WiFi is probably of more use to most. TP-LINK supplies an "Intelligent IP Installer" app on CD to locate the camera on the network, but you can also check what IP address your router has assigned and punch that into a browser instead. The web-based settings page isn't exactly the height of UI design, but it's functional: getting WiFi working is a simple matter of scanning for your network and then punching in the access code.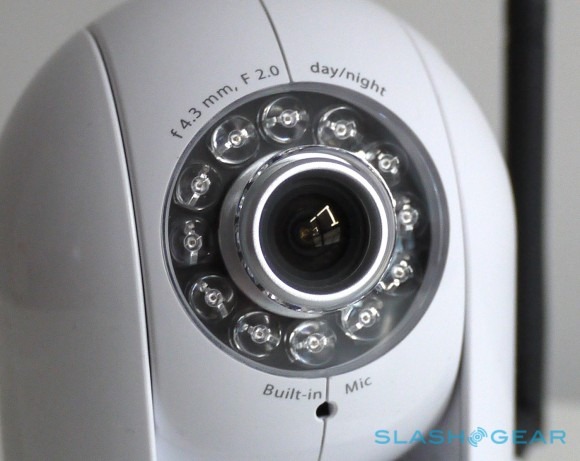 From then on, accessing the webcam from within your home network is straightforward. You can set up user accounts or simply use the main admin account, and your first view in the browser is a live feed from the camera. Unfortunately not all browsers support audio, in fact you'll likely need Internet Explorer which leaves Mac users in the cold. The bundled Windows IP camera surveillance software can bypass that restriction, however, and supports views from up to 16 cameras.
Motion control is via a cluster of directional buttons; you can also set a default view that's automatically returned to with a click of the center button. Multiple preset views can also be set, as well as a "patrol" pattern, where the camera sweeps its gaze through a preconfigured route. There are also various warning options, including automatic video recording either on a set schedule or when movement is observed, and can fire off an email to a preset address when that happens.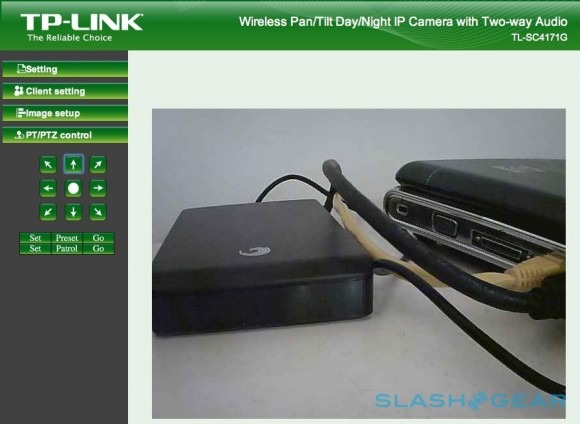 Setting up remote access proved trickier, requiring some tweaking with our router and the IP and port settings in the camera itself. Once we'd managed that, however, we could log in from our smartphone remotely and stream audio and video across a 3G connection. Smoothness obviously depends on the speed of your connection, but we had no problems. Alternatively there are various third-party IP camera apps available for most big smartphone platforms.
Image quality is limited to VGA because of the sensor, using either MPEG4 30fps or H.264 15fps codecs. Still, reasonable detail if you avoid using the digital zoom. Colors are muted in natural lighting. The IR array can be set to automatically turn on in low-light conditions or triggered manually: TP-LINK say it has a 10m range, though we found the usable range was more like half that. There's also an audible click as the low-light system turns on, which can be distracting if you're near the camera.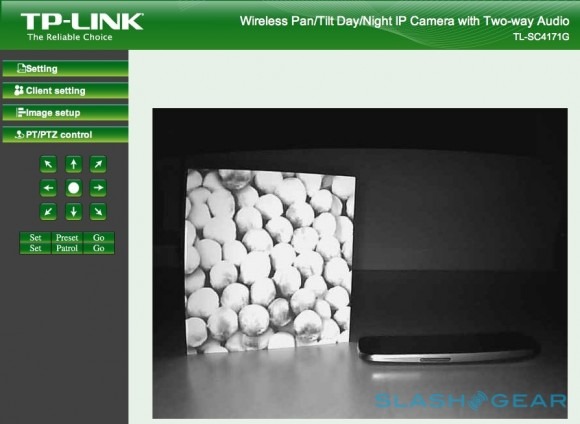 Wrap-Up
Webcams are cheap, and so it's easy to dismiss the TP-LINK TL-SC4171G as too expensive. For a wirelessly-enabled, motorized IP camera, however, it's something of a bargain. The low resolution means this isn't the webcam you'd choose to stream your next video webcast, but the range of monitoring tools, motion alerts, remote access and other surveillance-centric abilities make it a capable addition to a home or office security setup.