Toyota Unveils The 2014 Tundra Pick-Up Truck At Chicago Auto Show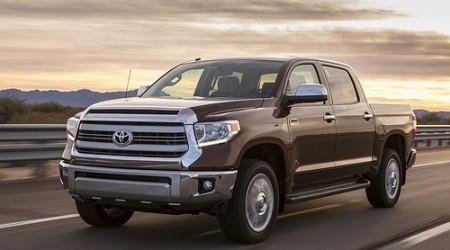 On Thursday, Toyota unveiled its 2014 Tundra pick-up truck at the Chicago Auto Show, showing off a newly designed interior and larger, more built exterior. The truck is slated to be available in September, but no word was given on how much this beastly-looking vehicle will cost. In an effort to boost sales, Toyota will also be offering two luxury Tundra models.
The 2014 Tundra will be available in three varieties, two of which are meant to appeal to those looking for high-end, sophisticated offerings in a pick-up. The first of the two higher-end models is the 1794 Edition, which is named after the ranch where the manufacturer's factory in Texas was constructed. Second is the Platinum Tundra, which has a big-city feel to it.
As its name suggests, the 1794 Edition is aimed at those who want an old world feel, with the truck boasting embossed leather. The Platinum edition, meanwhile, will have black leather-trimmed heated seats and a 12-speaker system. Buyers can choose between a double cab, which is a four-door option, a CrewMax four-door cab, or a regular cab.
Powertrain options include a 4-liter V6 with 270 horsepower, a 4.6-liter V8 with 310 horsepower, and a 5.7-liter V8 with 381 horsepower. Neither a hybrid Tundra nor a diesel option are available, although according to USA Today, Toyota stated that both are possibilities in the future. While some have expressed doubts that Toyota's dolling up of the Tundra for those demanding luxury won't have the effect on earnings hoped for, the manufacturer remains confident, stating, "The segment is moving more in that direction."
[via USA Today]