Toyota Tundra "Tim Love Edition" sports grill, PS4, and 3 TVs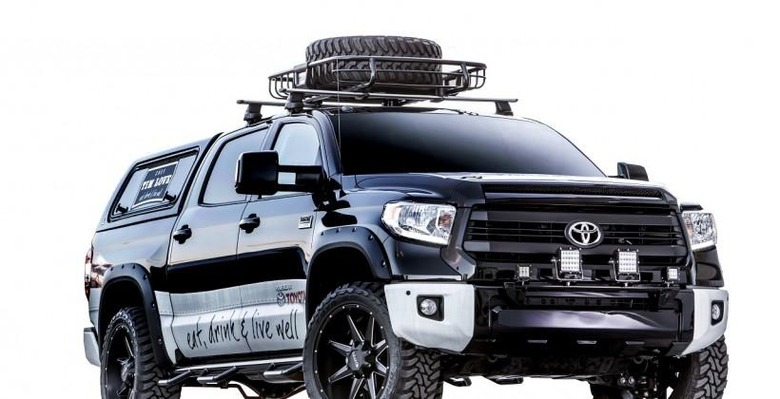 Toyota will show off quite the concept truck at the Specialty Equipment Market Association Show, more commonly referred to as SEMA. It is the Toyota Tundra Tim Love Edition, named such for the collaboration with celebrity chef Tim Love and the related Divine 1 Customs, and it packs into it the embodiment of both work and play. Said Toyota's Steve Appelbaum recently, "This ingenious build highlights why the Tundra is the truck of choice for so many hard-working Americans." Did we mention the three TVs?
As you can see below, this particular Tundra is hiding enough gear under its camper shell to make you wince at every pothole. There are three televisions, as mentioned — two are 24-inch Samsung LED sets, and the other is a 40-inch Samsung LED TV. This is joined by Apple TV for your entertainment needs and a PlayStation 4 for some backwoods gaming.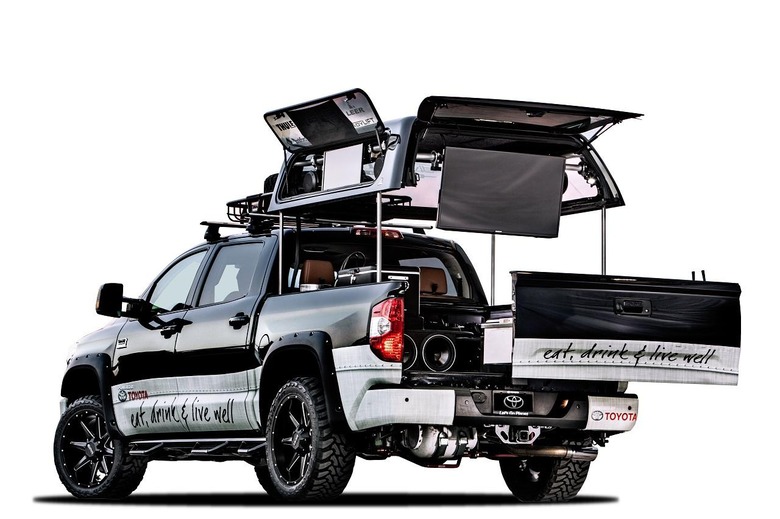 That's just the start, too. The televisions and PS4 wouldn't be much without adequate audio, which is delivered via three pairs of 6.5-inch full range P165 speakers, a pair of 10-inch P3D2 Punch subwoofers, a P1000X1bd mono amp, a pair of P600X4 amps, a wired controller alongside a Bluetooth unit, and inputs for USB, iPod, and regular 3.5mm audio cables.
Electronics aren't the only focus in the Tundra concept, however; Tim Love is a chef, after all, and so the beast would be lacking if it didn't cater to the foodies among us. That is achieved via a Solaire 27-inch grill featuring an infrared burner, as well as a couple of beer and wine taps, coolers for keeping canned beverages cold, and a couple of John Boos cutting boards.
SOURCE: Toyota