Toyota shares fuel-cell patent portfolio to drive hydrogen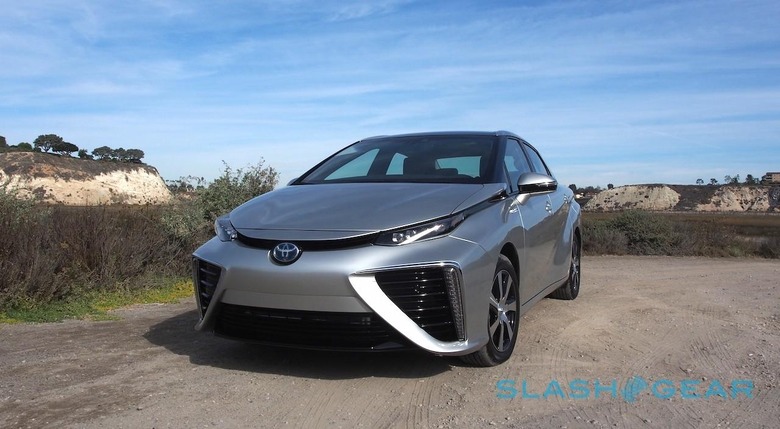 Toyota has thrown open its fuel-cell patent portfolio, offering royalty-free access to almost 6,000 patents used its Mirai car, in the hope of driving adoption of the technology. "At Toyota, we believe that when good ideas are shared, great things can happen," SVP of automotive operations Bob Carter said of the CES 2015 announcement, which will cover not only other car companies looking to add fuel-cell vehicles to their fleets, but to infrastructure and parts specialists, and even firms looking to leverage hydrogen power for busses and industrial equipment.
Toyota has already revealed its first fuel-cell vehicle, the 2016 Toyota Mirai, which we drove back in November. In development for several decades, it's the first in what the company says will be a range of its own hydrogen-powered cars.
Toyota Mirai FCV first-drive:
In total, there are 5,680 patents covered by the announcement. Of those, 1,970 relate to fuel-cell stacks, and 290 are associated with high-pressure hydrogen tanks.
3,350 relate to fuel-cell system software control, and finally there are 70 patents related to hydrogen production and supply.
Toyota isn't the first to throw open access to its patent portfolio in the hope of spurring innovation in the technology it has backed. Last year, Elon Musk announced that he would make Tesla's electric car patents available royalty free, voicing disappointment at the time that the bigger marques had been relatively slow to ween themselves off gasoline and other fossil fuels.
It's not necessarily an open-ended invitation, however. Toyota says that the royalty-free access for patents covering fuel cell vehicles will be available until the end of 2020; after that, those using the technologies would presumably be expected to ink some sort of licensing deal.
However, patents covering hydrogen production and supply "will remain open for an unlimited duration," Toyota says.
SOURCE Toyota