Toyota Project Portal 2.0 is a fuel cell-powered big rig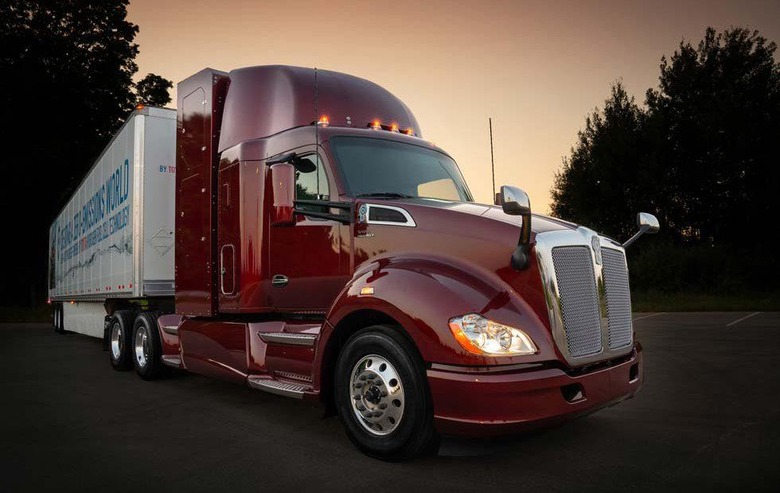 Toyota is showing off its take on the future of zero-emissions trucking with the second version of its fuel cell Class 8 truck. The truck was unveiled at the Center for Automotive Research Management Briefing Seminars in Michigan. Toyota notes that the first Project Portal Alpha truck began operations in April 2017.
That big rig plied the streets between the Ports of Long Beach and Los Angles for almost 10,000 miles. The second version of that truck dubbed the beta version will begin drayage operations this fall. That beta version is Project Portal 2.0 and it builds on lessons Toyota learned with the Alpha truck last year.
The truck has a gross combined weight capacity of 80,000 pounds and a driving range of over 200 miles per fill thanks to its hydrogen fuel cell. The alpha truck had over 670hp and 1325 lb-ft of torque from a pair of Mirai fuel cell stacks and a 12-kWh battery. Project Portal Beta has the same torque and horsepower numbers and promises longer to range thanks to other improvements.
Toyota is mum on exactly how far Project Portal 2.0 can go on a fill of hydrogen. Toyota says that Project Portal 2.0 is a more commercially available vehicle. However, it has offered no indication of when the trucks might enter commercial operations.
Toyota is competing with its fuel cell big rigs against multiple competitors in the electric big rig market. One of the biggest players with electric big rigs is Tesla with the Tesla Semi.
SOURCE: Toyota