Toyota Corolla Touring Sports wagon will debut in Paris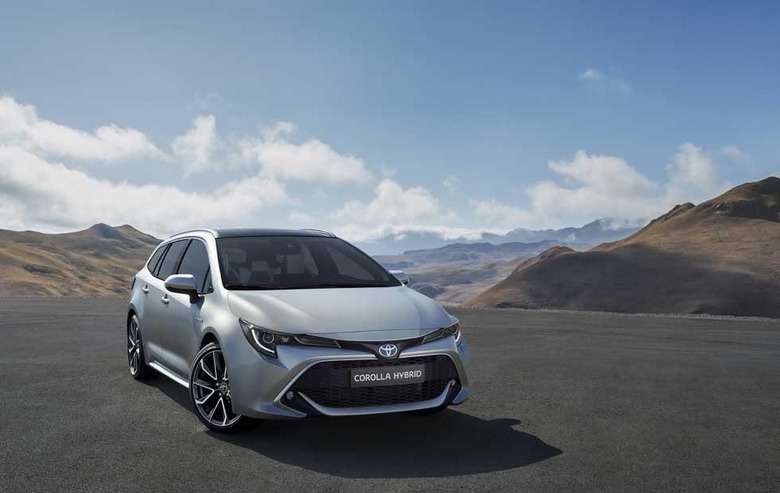 Toyota has unveiled some details about the new Corolla Touring Sports that will make its first appearance at the Paris Motor Show on October 2. The car will slot into the line along with the normal Corolla and the new hatchback that was unveiled this year. The main difference here is that the Touring Sports is a very nice-looking wagon.
This car was developed and created in Europe, presumably, with no announcement coming in the US this car will be a European exclusive. The car will come with a single conventional engine option, a 114bhp 1.2L turbo gas unit. There is a pair of hybrid powertrains offered.
That includes a 120bhp 1.8L hybrid and a 178bhp 2.0L hybrid. Toyota says that the 1.8L engine is an improved version of a current engine in its line. The 2.0L unit is a new engine and adds performance to the mix.
Toyota uses MacPherson strut arrangement in the front suspension and an all-new rear multilink system. This is the first Corolla to have available adaptive variable suspension. Buyers will be able to option the Touring Sports with the world's first 3D driver's meter, premium HUD, and JBL GreenEdge Premium sound, wireless phone charging, and Toyota Touch multimedia system.
There is no indication of exactly what the 3D driver's meter will do. It sounds like some sort of tech to warn if the driver is inattentive. At launch, Toyota will offer the car in four optional bi-tone color combinations that match the body color with a black roof, pillars, and lower front grille surround.
SOURCE: Toyota