Touchjet WAVE is here to turn any TV into an Android tablet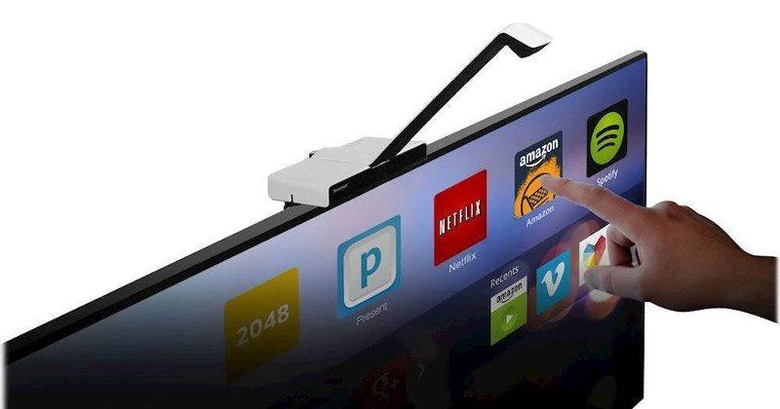 Don't have a fancy shmancy smart TV? Want to interact with the screen in a way a Chromecast doesn't allow? Fancy yourself holding a hi-tech, collaborative, interactive meeting in front of your flat screen? If you said yes to any two of three questions, then you might want to take a look into Touchjet's newest creation, the Touchjet WAVE. After a highly successful Indiegogo run that saw it raise 6x its funding goal, the contraption has finally landed in the market for anyone to buy to turn their flat screen TV into an Android counterpart of the Microsoft Surface Hub.
The Touchjet WAVE is, admittedly, not exactly a technological breakthrough. The company, however, can be lauded for combining two existing technologies into one, easy to setup and use consumer product. The Touchjet WAVE is basically an Android box that sits on top of your TV, with a camera and light sensors to detect hand movement. The latter is what gives the illusion of having a touchscreen, when, in fact, it's simply recording your finger's movement and interpreting it as a tap or swipe.
The requirements for Touchjet WAVE is are pretty modest. Any TV that has a flat screen and HDMI input will do. Screen size, however, should be between 20 and 65 inches. Setup can be a bit more involved, considering you need to properly align the sensors. And you'll have to say goodbye to aesthetics, since there'll be a mini box sitting on top of your screen and a mini crane on top of that. A necessary compromise for what it offers.
And what does it offer? Well, basically a giant Android touchscreen device. Even if you don't touch it that much, you can still use it as an Android TV, using the Touchjet app on your Android phone or iPhone as the remote control. But where's the fun in that? Another app, the Touchjet Presenter, allows you to load up slide shows, PDFs, and videos on the WAVE and have others on the same network see them. It also lets you annotate on the TV, which is reflected on connected devices instantly.
The Touchjet WAVE is available for purchase from Touchjet directly as well as on Best Buy, It costs $299.99, which is a tad higher than most regular Android TV boxes, like the NVIDIA SHIELD. The hardware specs are pretty mediocre, like an old 2.0 GHz quad-core Cortex-A9 processor, but the oldest thing about it is Android 4.4 KitKat.
SOURCE: Touchjet