Total Recall Kate Beckinsale interview shows love (and distrust) of sci-fi and action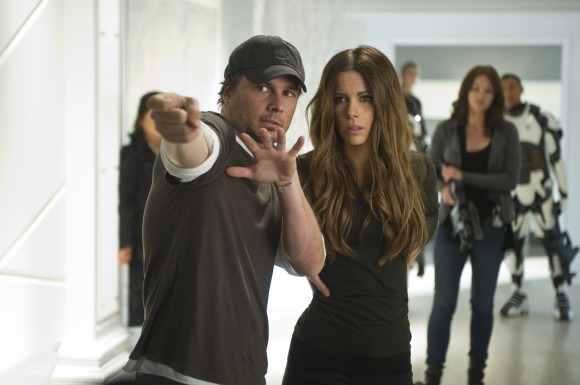 With the next giant science fiction blockbuster Total Recall (2012) headed to theaters this summer (out now, in fact), SlashGear took the opportunity to speak with Kate Beckinsale on her role as the main villain. As it turns out, Beckinsale doesn't just find herself in a series of action movies because she's custom-built for the role, it's got a lot to do with her love for science fiction, fantasy, and the whole action genre as well. Have a peek at why Beckinsale's four brother's had a lot to do with why you'll be seeing her play Lori Quaid on the big screen this week.
Down in Los Angeles last month SlashGear got to speak with each of the stars of the 2012 version of Total Recall as well as the director Len Wiseman. With Wiseman's interview revealing that he loved and still loves science fiction in a big way, it seemed only natural to ask Beckinsale the same question – Are you a science fiction fan, and was sci-fi a bit part of your life growing up?
Sidenote: Wiseman is married to Beckinsale, so we had to expect SOME form of connection. No getting away from sci-fi when your husband is an die-hard fan (and a Die Hard director, puns galore), and you're part of a movie series where you hunt down fantastic beasts on the regular (see: Underworld).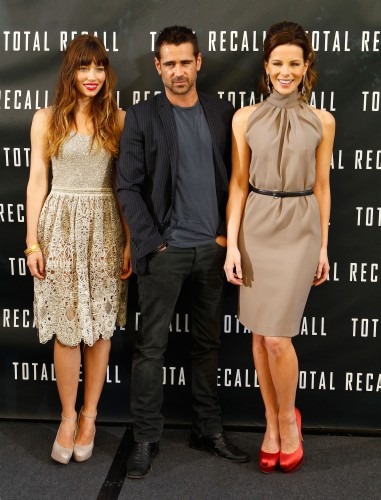 Above: Kate Beckinsale poses with co-stars Jessica Biel and Colin Farrell at the Los Angeles press junket for Total Recall where SlashGear met up with the lot of them
[Kate Beckinsale] I definitely was, I had four brothers growing up, so I was definitely exposed to those kind of movies. It's also more of the fact, for me, that I get to play these strong female characters and this is a good genre for that. People show up for that.
[Q] Do you and Len have any favorite films you'd like to share in the science fiction genre or related genres?
[KB] When we first met I was already a huge fan of the Alien movies, and I was a huge Die Hard fan until it ate my husband for two years. But I absolutely love those. And one of my favorites has always been Dog Day Afternoon (1975), and Len loves that movie. All About Eve (1950) – so yeah, we could just sit here and put one of those in.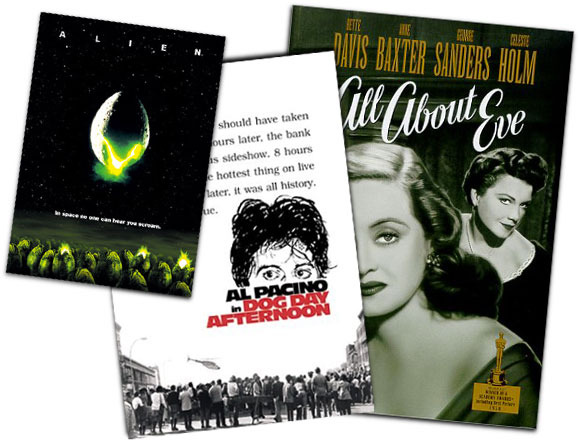 You'll find that Beckinsale plays exactly the type of character that made her interested in the genre in the first place here in Total Recall – a strong female lead. But what's different here, this time, is that she's not the hero. In fact it's the opposite, with her role taking the place of Sharon Stone's 1990 appearance as the quickly-divorced wife of Schwarzenegger. Regarding her rather intense fist fights with the other main characters of Total Recall in the film, specifically with Jessica Biel, Beckinsale had a bit to say on the new generation.
[KB] These are not fights between two women that happens in some sexy way. They are quite vicious. I think it shows that women have really come a long way in this genre of movie. I know when I put my timid little nose into Underworld to see if I could do it, I was looking for references.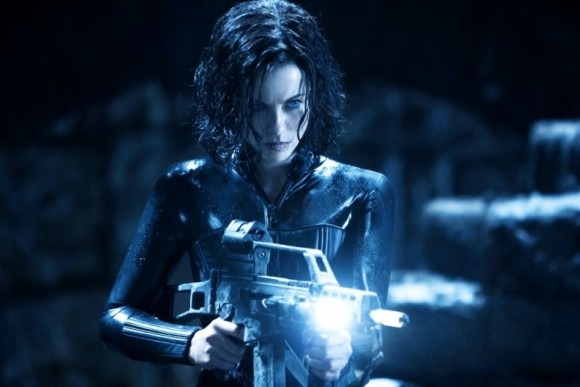 Above: Beckinsale also stars in the Underworld film series (2003-)
[Q] Do you feel as though you've perfected your craft in having been in so many action movies with Underworld et al?
[KB] Well it's funny. Yes and no – now I have that added terror of going 'I still feel like the person who shouldn't be doing this, and everyone is acting around me as if I'm a bad-ass.' And I still feel like – this still feels like a stretch.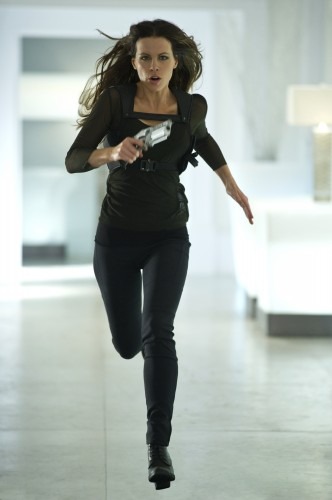 [KB] But this is something that is incredible, and I get to do this – you know – I get wonderful teachers to help me, and it's amazing. But it still feels like, it's a reach for me. I still feel more comfortable in a drama, I feel like I know it a bit better there. But still, it's good to be scared!
You'll want to have a peek at the rest of our interview series as well as our full review of Total Recall 2012 right this minute! The movie is out in theaters now across the USA – and once you've seen it, be sure to head back to our Rekall portal to gain additional insight into the world of the Total Recall storyline and one whole heck of a lot more!