Toshiba's New 2-In-1 Lineup: Satellite Fusion, Radius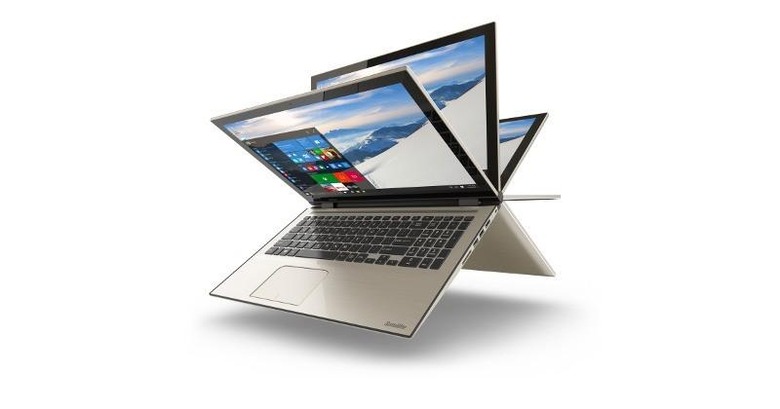 Toshiba has been in the tablet PC business before this new generation of 2-in-1 PCs became a thing, but now the PC maker has shifted its design a bit to follow the latest trends. Touting 2-axis hinges not unlike the Lenovo Yoga line, Toshiba's new 2-in-1s, the Satellite Radius and the Satellite Fusion, tout style and versatility, combining the productivity of a laptop and the media consumption of a tablet in a single package. Built with Windows 10 in mind, these PCs also provide quick access to Cortana via a dedicated key.
Toshiba Satellite Radius: 4K Convertible
With its new 2-in-1 convertibles, Toshiba is advertising ultimate portable productivity and entertainment all in a single machine. The 2-axis hinges lets the Satellite Radius' screen rotate a full 360 degrees, giving access to five modes. Laptop and Tablet modes are your most common forms. Audience mode lets you comfortably watch your videos with the keyboard acting as a stand. Called tent mode elsewhere, the Presentation mode turns the Satellite Radius into a show and tell tool, while laying it out flat in Tabletop mode makes for a better collaboration tool.
The Satellite Radius comes in three flavors, but only one of those really flaunts that 4K Ultra HD display. There is the smallest of the group, the 14-inch Radius 14 and then there's the 15.6-inch Radius 15. The latter has another variant, touting a 3840x2160 resolution display, called, what else, the Radius 15 4k Ultra HD edition. The differences aren't only based on the display. The Satellite Radius 15 runs on a 5th generation Intel processor while the Radius 14 can be configured with either an Intel or an AMD CPU. The Radius 15 comes in a brushed metal body while the Radius 14 has an all-new brushed resin matte black cover instead.
The Toshiba Satellite Radius 2-in-1 will be available starting June 21, with starting prices of $584.99 for the Radius 14 and $842.99 for the Radius 15.
Toshiba Satellite Fusion: Well-balanced entertainer
Sitting just ever slightly lower than the Radius 15, Toshiba is introducing the new Satellite Fusion as an option for those who want to get everything done at a price point. With the same 2-axis hinge, the Fusion delivers the same 5 modes of operation: laptop, tablet, audience, presentation, and tabletop. Coming only in one size, the Fusion has a 15.6-inch display with a 1920x1080 Full HD resolution. Audio is pushed by Onkyo speakers that are tuned by Skullcandy, delivering a quality audio/visual experience. All of these are powered by a 5th gen Intel Core processor, supporting up to 12 GB of RAM. Storage comes in either 1 TB HDD or 128 GB SSD options.
Unlike Toshiba's other new announcements, the Satellite Fusion is already available today, with a price tag that starts at $649.99 and comes with a classy Satin Gold finish and a slim profile of less than an inch.