Toshiba's dynaEdge AR Smart Glasses make Win 10 wearable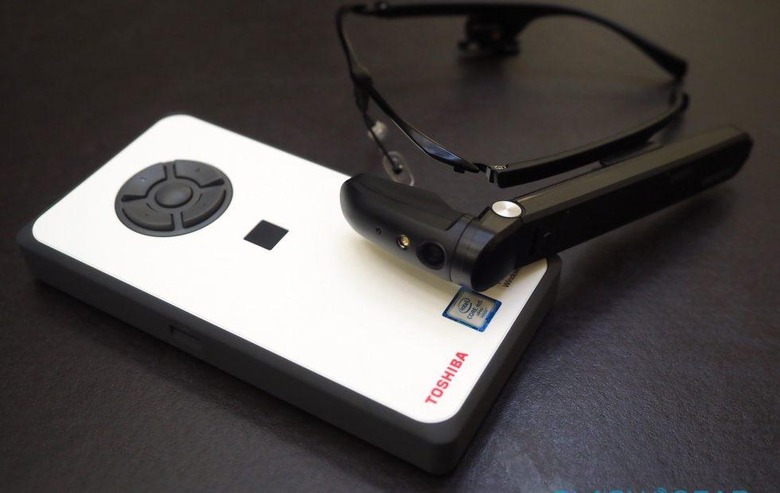 Augmented Reality may be on the roadmap for Apple, Google, and others in the next few years, but Toshiba is pulling the trigger early with its dynaEdge AR Smart Glasses. Targeting not consumers, but businesses, its wearable PC neatly sidesteps some of the more pressing issues facing other AR wearable projects, like battery life, processing power, and general style and heft.
Rather than try to squeeze everything into a headset, Toshiba splits its system into two. On the one hand, you have the dynaEdge DE-100 Mobile Mini PC, a 6.5 x 3.3 x 0.8 inch slab weighing under 11 ounces, that's effectively the key elements of a Windows 10 Pro laptop. It packs a 6th Generation Intel Core M processor, an SSD for up to 512 GB of storage, up to 16 GB of LPDDR3 RAM, and Intel Dual Band 802.11ac WiFi just like a regular notebook, only instead of a keyboard and display there's a set of chunky navigation buttons – usable even if you're wearing gloves – and a head-mounted display.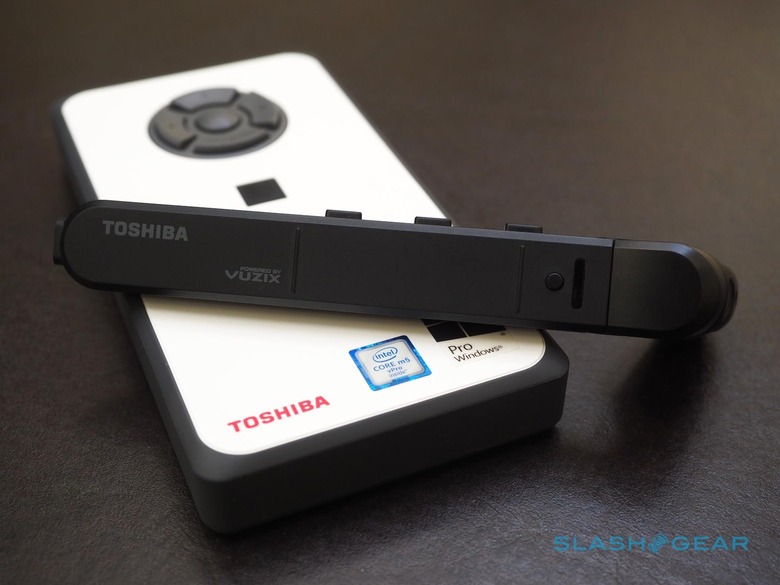 The latter is the other half of the system, what Toshiba is calling the dynaEdge AR100 Head Mounted Display. It's actually based on Vuzix's M00 AR headset, complete with a 5-megapixel front-facing camera, 640 x 360 resolution eyepiece, dual microphones, a speaker, and a variety of sensors. While Toshiba and Vuzix are billing the headset as offering Augmented Reality, it's not actually what we'd think of as true AR: digital graphics overlaid onto the real world. Instead, it's more like a small, landscape orientation smartphone screen hovering in your peripheral vision.
Unlike the M300, which runs Android, Toshiba's system is a full Windows 10 Pro PC. PC and headset link up via a USB-C cable, and the DE-100 also has a USB 3.0 port, combination microphone/headphones jack, and a microSD card slot. A fingerprint reader on the front will be optional. Sensors in the head-mounted display handle proximity, ambient light, GPS, and general movement.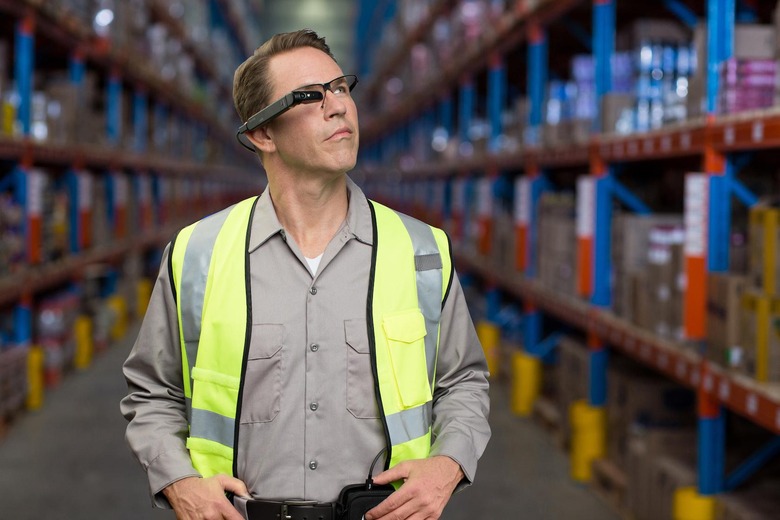 Toshiba has a number of different mounting options. There are regular glasses-style mounts, for example, onto which the AR100 slots. Alternatively, there's a safety helmet mount, and a headband. The AR100 can pivot up or down, so that your line-of-sight is typically clear, but you see the display when you glance up or down.
The idea, Toshiba tells me, is to make integrating a wearable computer into an enterprise environment as simple as deploying a regular laptop. Indeed, the DE-100 Mobile Mini PC can be treated as just another laptop in a business' computer fleet, including remote management and backup, and secure auditing courtesy of the Trusted Platform Module 2.0.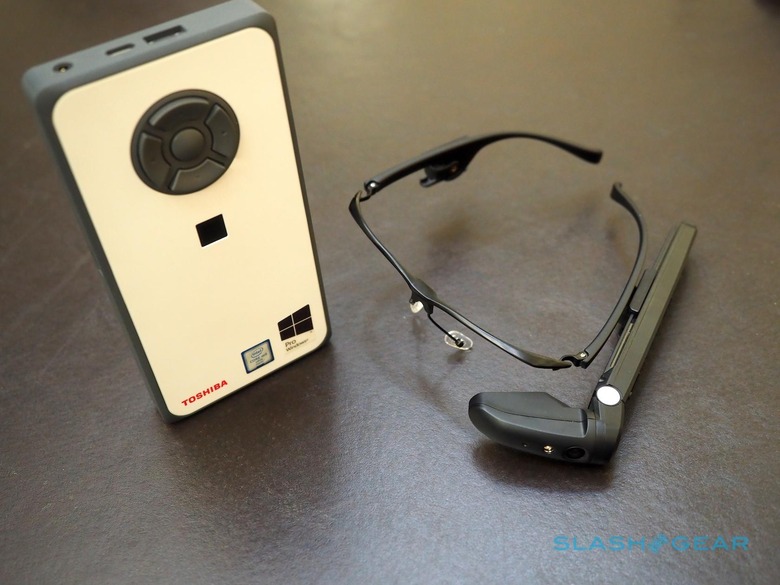 Still, Windows 10 Pro, it's fair to say, isn't especially wearable-friendly. Although there's a touchpad on the side of the AR100 headset, Toshiba has also built its own software suite to sit on top of Windows. Effectively a custom UI and launcher – which, down the line Toshiba tells me, it intends to add voice and gesture control to – it gives access to video calling, documentation, and the camera.
For example, using the SmartGlasses system, a mobile worker on-site could get assistance from a remote expert. That expert could see what the worker was looking at in real-time, give feedback and instructions, and even refer to documentation that the AR100 could display, complete with annotations. Alternatively, the system supports Skype messaging, with new IMs showing up discreetly at the bottom of the eyepiece.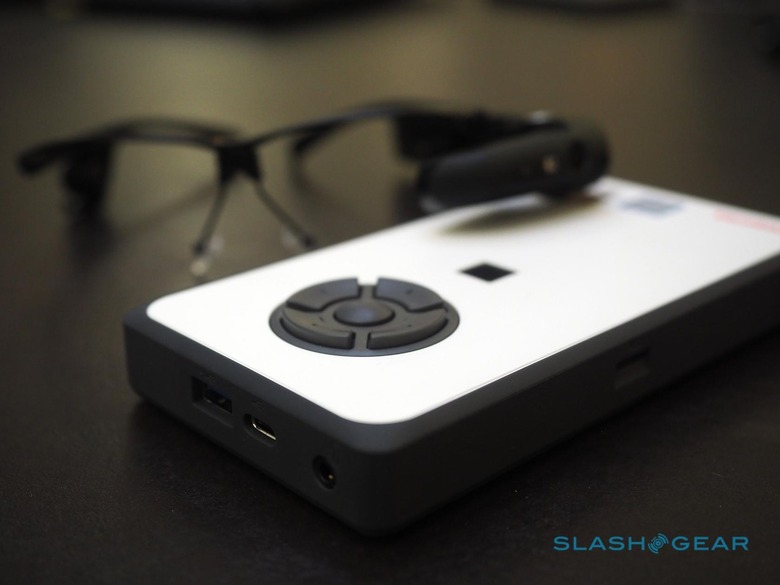 Another app adds step-by-step logistics and maintenance guidance. There, the AR100's camera can be used to recognize parts or QR codes, walking the wearer stage by stage through packing up parcels for shipment, assembling devices, or restocking shelves. The system is designed to catch any mistakes before they become serious, warning of potential health and safety hazards, or if an incorrect part has been selected.
Unsurprisingly, Toshiba doesn't have individual users in mind with the dynaEdge AR Smart Glasses system. Target consumers, and you have to think about factors like aesthetic palatability: that's something enterprise buyers are much more content to overlook, just as long as the productivity gains are evident. That given, it won't be a cheap system either: think along the lines of a high-end laptop, with prices kicking off from $1,899.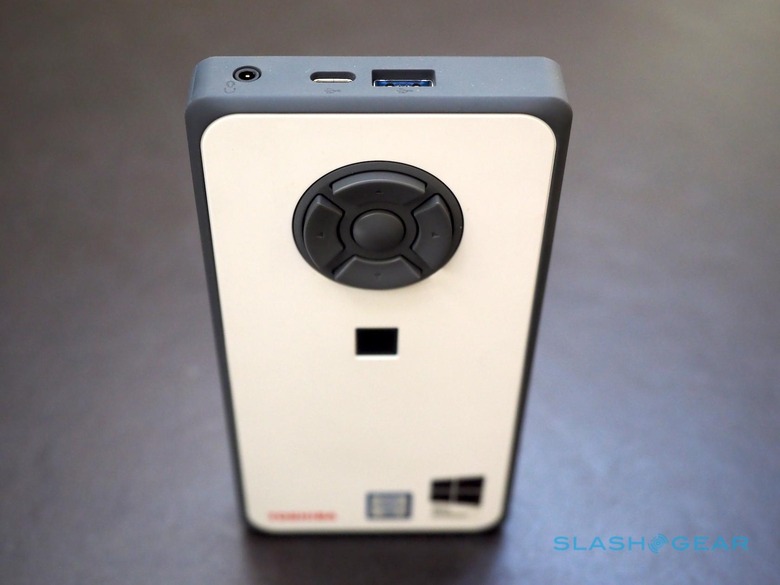 All the same, Toshiba is confident it will find buyers. From its trials, it's seeing 15- to 20-percent efficiency gains from users wearing the system. Test deployments, I'm told, have particularly appreciated how easy it is to keep one eye on the computer while referring that data to what's going on around them, without having to juggle a smartphone, tablet, or laptop in the process. Meanwhile, an SDK for customers will allow custom software to be tied into the AR100's buttons and other controls.
Meanwhile, get back to your desk and the DE-100 Mobile Mini PC can act as your regular computer, too. Toshiba is including a wireless keyboard and mouse, along with a USB-C hub that has VGA, HDMI, USB, USB-C, and ethernet connectivity. Its battery lasts for around four hours of full video use, and is replaceable to keep downtime to a minimum.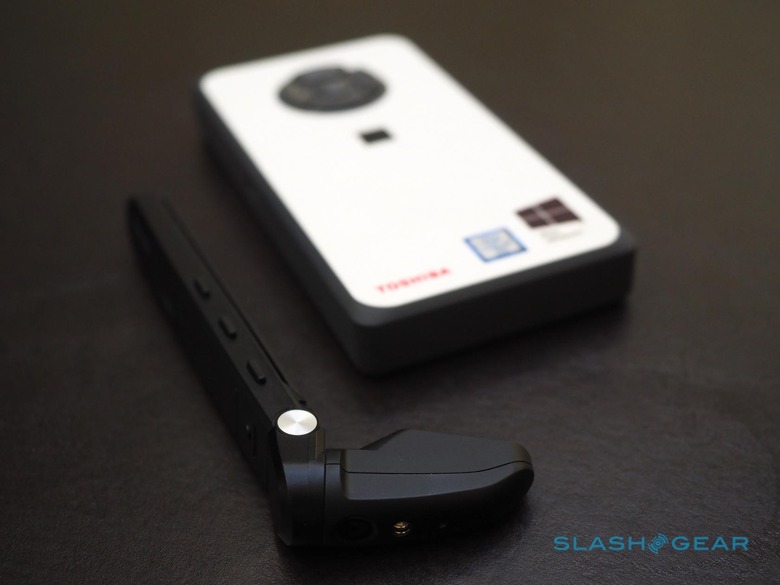 Sales of the dynaEdge AR Smart Glasses system kick off today, and Toshiba tells me it's quietly confident that the wearable will go down well. While it might not be as sleek as some of the headsets we've seen other companies working on, what sets the AR100 and DE-100 apart is just how close they are to a regular laptop. In the case of driving this early stage of AR into businesses, after all, familiarity can only be a good thing.