Toshiba WT301/D Corporate Tablet Pairs Stylus With Windows 7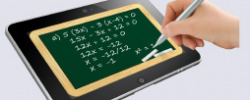 More and more companies seem to be blowing it as they include stylii with their products. HTC dipped their toe in the water with the Flyer, Samsung are doubling down with the Galaxy Note and Galaxy Note 10.1, and now Toshiba has their own spin on the idea. The company's new 10.1-inch tablet, the WT301/D, features support for an electromagnetic induction stylus.
Typically EMR technology is found in Wacom stylii, and has several advantages over other pens. The technology doesn't require any batteries in the stylus, nor does it need to be tethered. It's the same technology found in the Galaxy Note right now, and presumably in the Galaxy Note 10.1.
Toshiba has also tried to make the tablet corporate friendly with the addition of a fingerprint reader. Otherwise, specs include a 10.1-inch IPS display with a 1366x768 resolution, an Atom N2600 processor, 2GB of RAM, and 64GB SSD. The tablet runs on Windows 7 Professional, and costs between 134,400 yen (~$1,629) and 150,150 yen (~$1,820) depending on the configuration.
Clearly, this tablet is aimed at businesses and corporations, and commands a high price for the privilege of doodling in Windows 7. We wouldn't expect this to make the jump to the US, and even if it does, we can't imagine many people rushing out to buy one.