Toshiba WiGig Dock Supports Multiple Displays And Lots Of Connectivity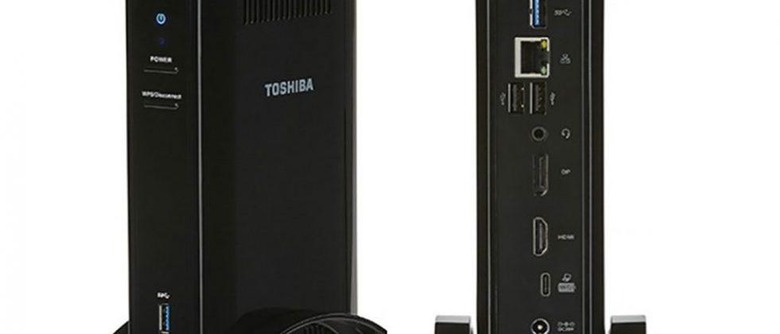 Toshiba client Solutions Division has unveiled a new product today that is aimed at helping notebook users to work better when in the office at their desk. The device is called the Toshiba WiGig dock and it delivers high-speed wireless docking using IEEE 802.11ad standards for connectivity. The dock can support wireless data transfer rates of up to 4.62Gbps and is able to connect up to seven different peripherals.
Among those peripherals can be two monitors running at different resolutions. In addition to WiGig wireless support, the docking station also has USB Type-C ports allowing users to connect peripherals and accessories via wired and wireless connectivity. The wired connections mean that notebooks lacking WiGig compatibility can also use the dock making it backwards compatible.
Other connectivity options include Ethernet, HDMI, and USB 3.0 ports. One of the USB 3.0 ports is on the rear of the dock and the other is on the front where it is easier for users to reach. The pair of supported additional monitors can include HD resolution and in some cases 4K resolution. WiGig is able to deliver up to 2560 x 1600 resolution for a single screen or 1920 x 1200 for dual displays in WiGig mode. When monitors are connected via the USB-C port 3840 x 2160 is supported for a single screen or 1920 x 1200 for dual screens.
The dock was also created to be secure with the latest wireless security measures to protect the data being sent out over the air. The dock also has a reinforced cable lock port to secure it to a desk or table. The Toshiba WiGig Dock will be available via direct sales, reseller partners and CDW starting at $299.99. Exactly when it will be available is unannounced.
SOURCE: Toshiba