Toshiba unveils tiny 32nm SSDs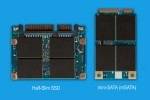 SSDs are finding their way into all sorts of gadgets today from netbooks to PMPs and camcorders. The smaller SSD form factors get, the more wide spread their use becomes. Samsung has announced a couple new SSDs that use the latest generation Toshiba 32nm MLC NAND technology.
The new line of SSDs are called SG2 modules and come in two form factors including a low-profile mini-SATA interface and a half-slim SSD that uses a traditional SATA connector. The SSDs will be offered in 30GB and 62GB modules.
Toshiba reports that volume production of the SSDs is set to begin in October. The 62GB module is one seventh the volume and one eight of the weight of a 2.5-inch SSD and needs only half as much power. The SSDs have a sequential read speed of 180 MBps and a sequential write speed of 70MBps.