Toshiba unveils the dynadock wireless U USB docking station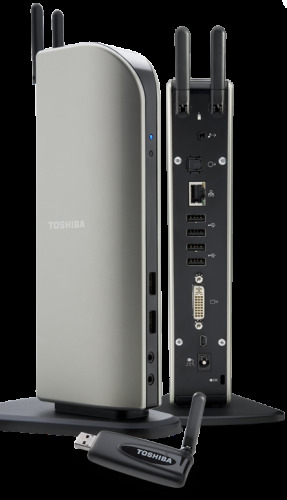 You may recall that we first laid eyes on a Toshiba dynadock back in 2008. Today, Toshiba has announced a new and updated version of the dynadock called the dynadock wireless U Universal USB docking station. The name is certainly a mouthful, but there are some nice features to be had.
Those nice features are assuming you can stomach the $299 asking price of the new wireless version. The dock integrates wireless USB tech into the design to eliminate the need for a wire between your laptop and the docking station. In case you aren't familiar with what a docking station is, the device allows you to connect multiple peripherals to your notebook like keyboards, monitors, and mice among others without having to connect each device via a cable.
The wireless U dock automatically connects to your PC when in range and features a one touch undock button and six USB ports. One of the ports on the front of the dock is a Sleep-and-Charge version that can charge your iPod even when the dock is powered off. Digital 7.1 surround sound is built-in and the digital video card supports up to 1680 x 1050 resolution. The new dock will be on store shelves this month.