Toshiba to offer world's fastest SDHC memory card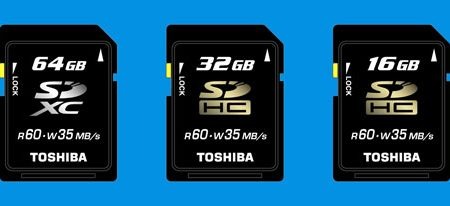 Toshiba has announced that it is set to offer a blazing fast SDHC memory card that it claims to be the world's fastest. The new memory cards are being offered in 4GB, 8GB, and 16GB capacities and are compliant with the SD Memory Card Standard Version 3.0, UHS104.
Toshiba claims that the new memory cards are good for read speeds of 95MB/s and write speeds of 80MB/s. The new fast cards will be offered in 8GB, 16GB, and 32GB capacities. Toshiba also claims more world's firsts in the memory card market with the unveiling at IFA of several new microSD cards.
The new microSD cards are offered in 4GB, 8GB, and 16GB and are UHS-I cards with SD 3.0, UHS50 compliance. The new microSD cards are the first SD 3.0, UHS50 compliant cards, have read speeds of 40MB/s, and write speed of 20MB/s. Mass production for the microSD cars is set for November.