Toshiba TLP-X200U is a projector that talks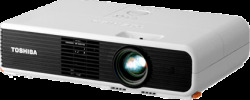 Sometimes, I just don't understand why certain features are added to particular products. I mean, I know it's funny to have a talking toaster, but what's the real point? But the Toshiba TLP-X200U has some talking features that actually make sense.
This has to be the first projector that talks. But it's not just a gimmiack. In fact, the talking feature is meant to help people that aren't all that tech-savvy and need on the spot instructions on how to use it. The voice-guided instructions should make operating the projector much easier for many.
Another feature is closed captioning. Other specs include 1024 x 768 XGA, 600:1 contrast ratio, 4:3 aspect ration, HDMI support and 3000 ANSI lumens. Plus, standard wired and wireless networking are available. This mobile Toshiba TLP X200U projector is now available for $1,740.