Toshiba Thrive Android 3.1 Tablet Arriving July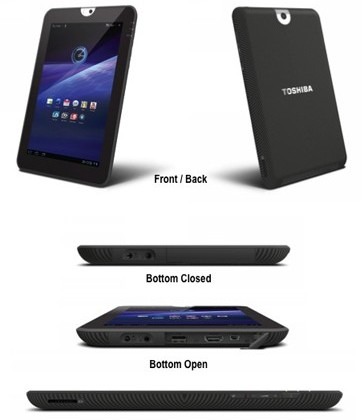 The Toshiba Thrive, the company's first tablet, may finally arrive this summer. We first saw their Tegra 2 powered Android tablet back at CES, where it flaunted some pretty nice specs, but quickly dropped off the radar. And now it looks like it's ready to ship by July.
Early on, the tablet was rumored to have a $700 price tag. But, it later reappeared accidentally on electronics retailer J&R's website for $449 for the 8GB model before the page was quickly pulled. J&R has confirmed that the page was listed in error and that the pricing was a mistake.
It turns out that the Toshiba Thrive is actually going to be priced more competitively. The 8GB model will instead be priced at $429, the 16GB at $479, and the 32GB at $579. Pre-orders for the tablet will start on June 13th at Best Buy and other major electronics retailers, but the device likely won't ship until July 10th.
The Toshiba Thrive will come with Android 3.1 Honeycomb, running on the NVIDIA Tegra 2 dual-core processor, sporting a 5-megapixel rear camera, and a 2-megapixel front camera. It will also support WiFi, Bluetooth, HDMI, and has slots for SD, and full-sized USB.
Other features include a haptic display with a button to lock screen orientation, pre-installed Swype keyboard UI, a Resolution Plus software for cleaning and upscaling video content, and a removable battery rated for up to seven hours and recharges to 90 percent in an hour and a half.
[via Engadget]